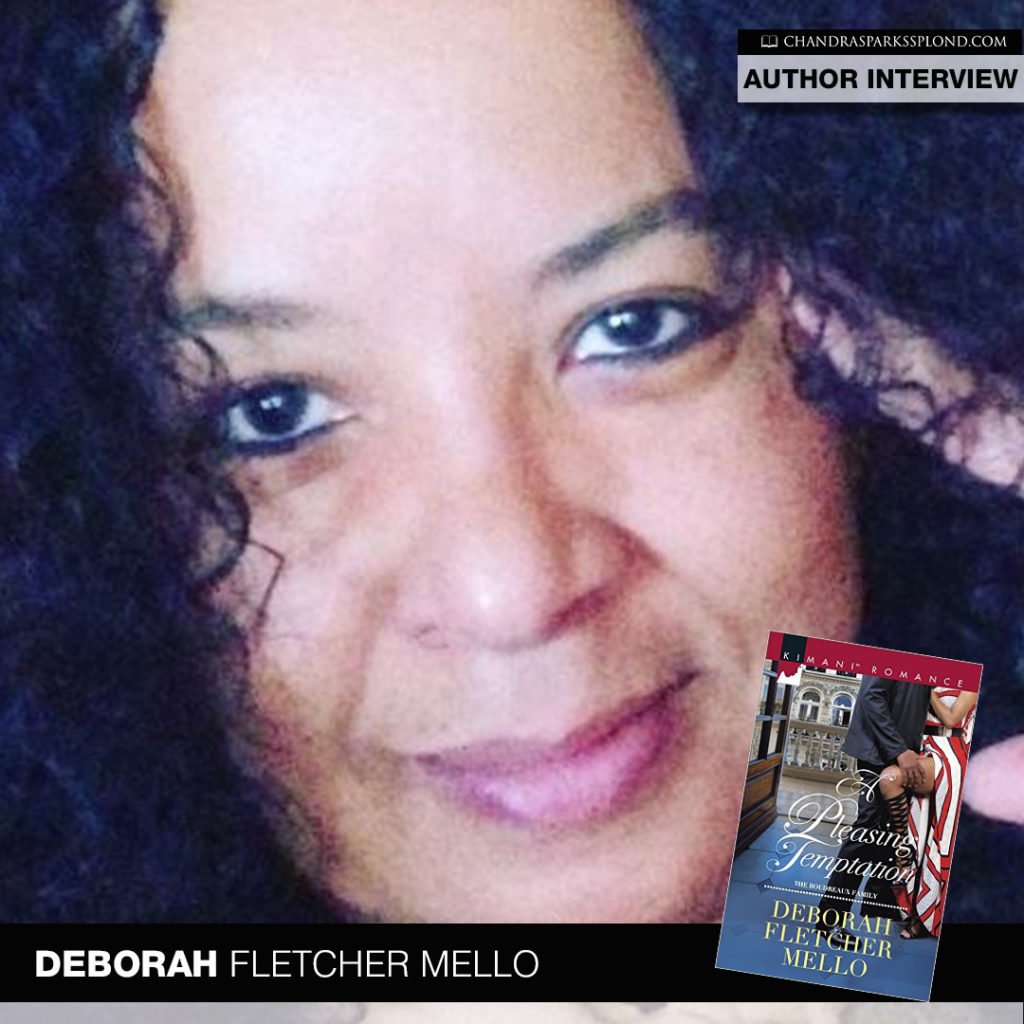 Author Deborah Fletcher Mello wants you to be pleased with her latest installment of the Boudreux Family romance series. I recently spoke with her about A Pleasing Temptation.
Tell me about your book, A Pleasing Temptation.
A Pleasing Temptation is the sixth book in my Boudreaux Family series. It's Kamaya Boudreaux's story. Much like her siblings, Kamaya is ambitious and driven to not only be successful, but to make her parents proud. But Kamaya's business ventures are a tad scandalous and definitely not mom and dad approved. When her best-kept-secret venture—an exclusive male strip club—is threatened to be exposed, the all-work-no-play entrepreneur needs to do some serious damage control. But her plans don't include the sexy Southerner Wesley Walters.
Wesley is climbing his own ladder to corporate success and he's keeping his own secrets. He hates deceiving Kamaya, but he doesn't want her to know that he was once the most popular performer at his establishment and guests are willing to pay top dollar for his return. When their passionate connection leads them into happily-ever-after, both have to come clean. But they discover that being honest could jeopardize their future together.
Why did you decide to write it?
I have thoroughly enjoyed giving life to the siblings in the Boudreaux family. They each have very distinctive personalities and their experiences have all been unique. This story was no different. I already had a sense of Kamaya's spirited personality from how she engaged with her siblings in previous books and I wanted to write this story to showcase that.
What do you want readers to learn from the story?
Kamaya's story is all about trust and honesty in relationships. From her parents, to her siblings, and then her love affair, she has to learn to trust herself and others and that trust begins with truth. Kamaya learns that all things done in the dark will inevitably come to the light and I hope readers will understand that as well.
What do you want readers to learn from your life?
What an interesting question! I hope that readers learn that all things are possible and dreams do come true. To borrow from Jill Scott, I'm living my life like it's golden! Doing what I most love to do. And if I can, anyone can. It will just require hard work, dedication, and a commitment to giving back as much as you receive.
Who is your favorite character from A Pleasing Temptation and why?
I love them all, but my hero, Wesley Walters, is probably my favorite. Wesley personifies a true Southern gentleman. He's barnyard country and Ivy-league refined. He's a Baptist-bred, mama's boy with a heart of gold. He's a little rough around the edges but as smooth as the most expensive wine. He plays hard, works harder, and has a body that would make a blind woman weep! He is absolutely fabulous!
What advice do you have for readers interested in writing romance?
Writing, no matter the genre, must come from the heart. I would tell aspiring writers to write because they love the beauty of words and the magic that can come from manipulating them. If romance is their genre of choice, then remember that there are only so many places that a writer can place a kiss, so give your readers more. More character, more story, more depth.
What's next for Deborah Fletcher Mello?
Where do I start? Coming at the end of the year is the next story in the Stallion Family series – Sweet Stallion. It's Naomi Stallion's story. Naomi is the eldest sister in the Utah Stallion cousins and she's truly dynamic. And next year I have a new series coming with Harlequin Suspense that I'm very excited about. It follows members of a Chicago police family dedicated to law enforcement. The family is headed by patriarch Jerome Black, the superintendent of police and his wife, federal court judge Judith Harmon-Black. The stories will follow sons, Armstrong, Ellington, Parker, Davis, and Mingus and daughters Simone and Vaughan, all seasoned veterans in the Chicago judicial system.
Do you have anything you would like to add?
I'm very excited to tell readers about my Literary Tea Party which will be held in Savannah, Georgia on June 10, 2017. We're featuring fourteen amazing authors including the amazing Beverly Jenkins for an all-day extravaganza. That afternoon there will be lunch and one-on-one interaction with the authors and in the evening, I'm hosting my Diamond Gala and Bachelor Auction, a 1920's speakeasy-themed fundraising event that will benefit the American Cancer Society. It's an event that should not be missed!
And thank you so much, Chandra for featuring me. I greatly appreciate this opportunity.
Connect with Deborah Fletcher Mello:
Blog: http://bit.ly/Melloblog
Youtube: http://bit.ly/MelloYoutube
Twitter:http://bit.ly/MelloTwitter
Facebook: http://bit.ly/MelloFB
Instagram: http://bit.ly/MelloIG