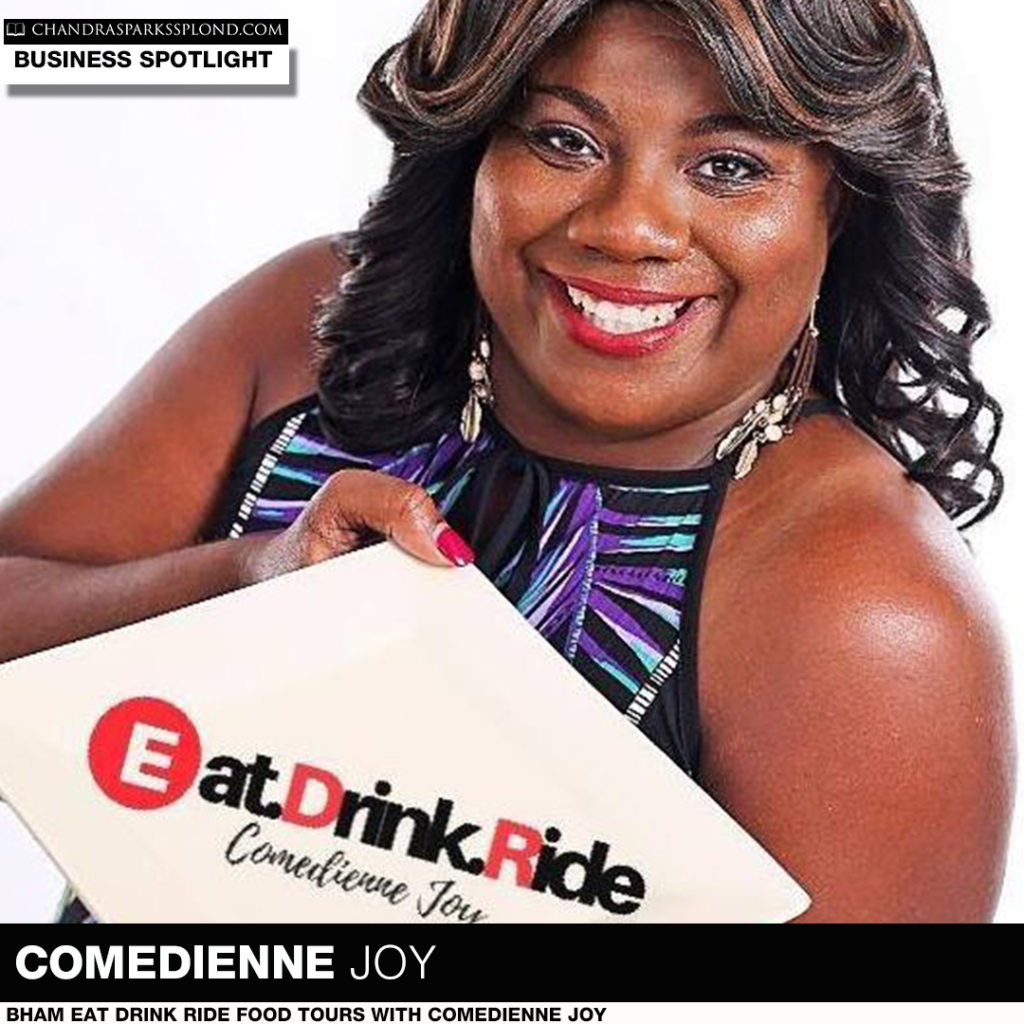 Looking for a unique way to find out about the hidden food treasures of Alabama? Tour guide and TV food host Comedienne Joy wants to take you on an amazing adventure. I recently spoke with her about Bham Eat Drink Ride Food Tours with Comedienne Joy.
Tell me about Bham Eat Drink Ride Food Tours with Comedienne Joy.
This food tour takes guests around Birmingham and surrounding cities to locally owned restaurants sampling small bites. Usually it's places many have never been to. We are only there for about 20 minutes before going to the next location. At least three of them come with cocktails—one milkshake is served with the burger. In Birmingham we make five different stops. On the Alabama excursion, it's a winery and one stop with three to four courses in some upscale restaurants.
Why did you decide to start it?
After the bus company approached me and I had an outing with some ladies from my church, I realized there's not many options for food tours in this foodie city, so I said why not create one. Most food tours are walking tours. I don't want to walk and be full or brave elements, so why not use the party bus and eat?
What can patrons expect when they participate in a food tour?
They can expect tons of fun on the bus, lots of delicious food without a wait in the restaurant and to pace themselves. Come hungry and leave stuffed, plus some great networking.
What's your favorite restaurant in Birmingham and why?
Hmmm. I have favorites based on food categories! On the tour, Cajun Seafood House because the food is always consistent and fresh. It can hold a large group and I love the staff. When it comes to chicken and waffles, Yo Mama's because of the homemade syrup, however, they're not on the tour yet because I have to work within their hours of operation, and they're always packed. Twisted Root Burger is popular on the tour because they sale game meat, and each group has trusted me to try it and liked it…a lot! We've eaten antelope burger paired with a milkshake
What advice do you have for others interested in starting a food-based business?
Step out and try it. Know it"s a tough industry, but with God all things are possible. Find some good help and be sure it's consistent.
What's the biggest lesson you've learned as an entrepreneur?
You will evolve and grow your platform. Even though you are doing a lot, be open to doing even more. I never saw this in my future, but I'm loving every moment of it. I love the fact what I do is impacting others and I'm just the vehicle.
What's next for Comedienne Joy?
Expand the food tour to corporations as employee team building and church groups as a ministry outing. Continue to make my way to a national TV stage.
Do you have anything you would like to add?
Check my website for upcoming tours www.DiningOutWithComedienneJoy.com and get on the email list. My local Birmingham tour will be Jan. 26 and the upscale Alabama excursion is Jan 27. The link to Bham is https://www.eventbrite.com/e/bham-eat-drink-ride-night-food-tour-tickets-41459914721. If you want to book a private tour for your group or family reunion, contact me at 205-482-6999 or email [email protected].
To connect with Bham Eat Drink Ride Food Tour, visit the Facebook page.