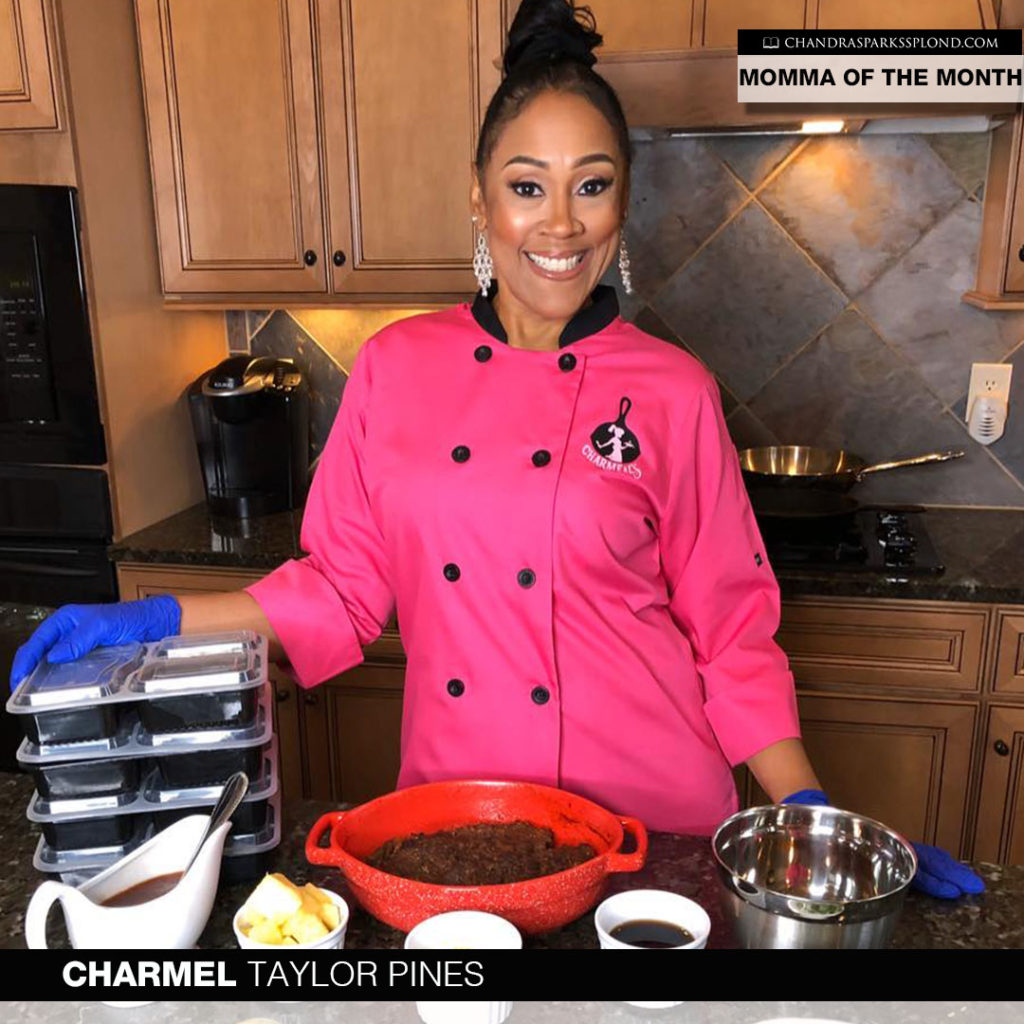 Charmel Taylor Pines, the November 2019 Momma of the Month and owner of CHARMEaL'S, has learned life is not about how you start, but how you finish.
Tell me about yourself.
Well, hello there. I'm Charmel Taylor Pines. I'm 48 years of age. I was born in Columbus, Georgia, but reared here in Birmingham. My family is somewhat small.  I have a 21-year-old son, Christian Zachary. I'm the oldest of two girls. My baby sister Carla (who is my absolute best friend); her husband, Iverson; and their two children, Austin and Carsyn, were family up until I tied the knot in 2017 to my husband, James, and gained three beautiful bonus kids, Brooke, Lauren and Tyler. And the pillar of it all is my amazing mother whom I affectionately call JD (Joyce Davis). Although cooking is my passion and it fulfills my purpose, I have the wonderful opportunity to serve America's heroes by being employed at the Birmingham VA Medical Center. My undergrad studies were sociology and social work, and I gained my master's in management of science right after. I am also a proud member of Alpha Kappa Alpha Sorority, Inc.
What do you want your son to learn from your life?
I was totally a late bloomer, and most of my achievements were accomplished within the past 10 years. What I want my son to remember the most is that it's not always how and when you start, but it's about "finishing" the task  with integrity and truth.
What are the best and worst things about living in Birmingham?
Best things: the four seasons all in the month of October, city and country living and the southern hospitality. Where else can you wear shorts and sweatshirt on Halloween night and pass out candy to hundreds of trick-or-treaters?
Worst Things: I am a true southern belle, so I tend to choose my words carefully. I don't know necessarily the  "worst" thing about residing in Birmingham, but I will say we have some challenges that I would like to see tackled at a more rapid pace.  I strongly feel that as much as we are known for our Civil Rights heritage  and movement, we still lack diversity among the races.  The structure of our city is still separated, and we only have areas that would be considered as the melting-pot spots. We all will migrate only enough to be politically correct, but at the end of the day, we all go back to our small corner of comfort.
What is your proudest personal moment?
Wow! This one is a hard question. I've been blessed beyond measure with many  great accomplishments… so I have to say it was 21 years ago around October 10, 1998, approximately 5:01 p.m., I gave birth to the very thing that changed my entire perspective on life, love and living. My son, Christian, is the reason and motivation for all the "other" births and accomplishments thereafter.
What is your proudest mom moment?
Having one child, I think every moment I'm proud, but If I had to select a moment in time, I would say the day he was sworn into the  US Army.
You recently launched your business, CHARMEaL'S. Tell me about it and what patrons can expect.
Very bittersweet!  CHARMEaL'S was developed out of a need—of a family friend desiring to provide southern-style meals to his elderly mother. I quickly accepted the offer because my passion for cooking was developed out of my love and filling a loss of my grandmother whom I learned how to cook from! CHARMEaL'S provides meals with that southern flare for families that live active lifestyles.  There is a weekly menu that will typically provide an option of chicken, beef and pork entrée with veggies to complement the meats.  What makes CHARMEaL'S unique is that we capture and invest in the smalls things, like our seasonings are specialty blended. Our veggies are fresh and seasoned with turkey meat only, and each meal is prepared with lots of love.
What advice do you have for mommas interested in starting their own business? 
Trust the process.
Have some sort of  advisory team that knows your line of entrepreneurial-ship and [will] help you stay on course.
Invest in your craft.
What's next for Charmel Taylor Pines?
Lol. Who knows? Dare I dream big? CHARMEaL'S is a secret passion I've held for a long time. So I'm simply enjoying and taking it all in, but if the heavens see fit for CHARMEaL'S to have a small southern-style bistro/tea room where mothers can bring their daughters, girlfriends can catch up on one another while enjoying lunch or folks can bring their senior parents to enjoy good ole Sunday southern-style supper, I sure wouldn't be opposed.
Is there anything you would like to add?
Never give up on your desires, even if they hidden in your heart. Often remind God and rest well in knowing that He will bring it to pass.
Connect with Charmel Taylor Pines on Facebook (personal page or group page) to view CHARMEaL'S weekly menus. To place an order, call  205-830-8757