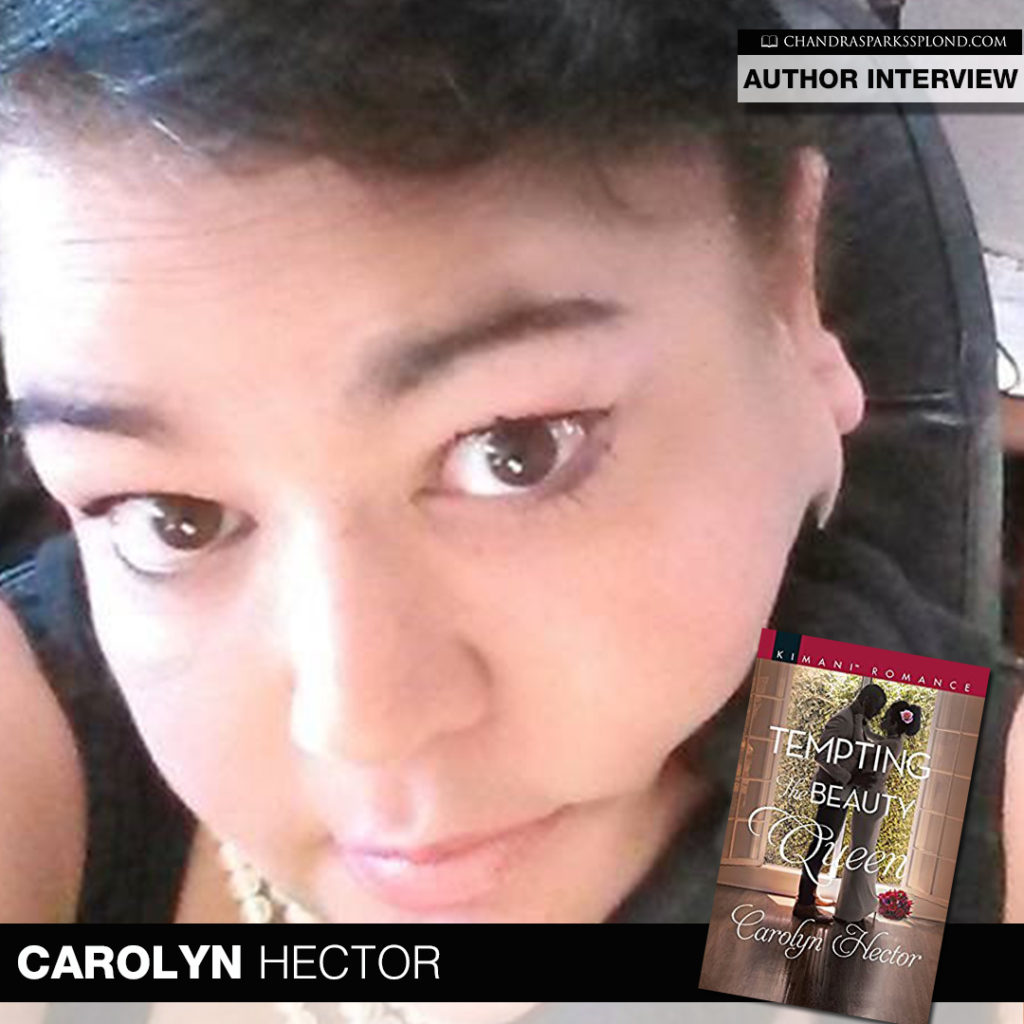 Whether it's in real life or through her writing, there's no shortage of men in author Carolyn Hector's life. She recently took a break from everything to talk about her latest book Tempting the Beauty Queen.
Tell me about your latest book, Tempting the Beauty Queen.
Tempting the Beauty Queen brings you back to Southwood to two characters I fell in love with while writing The Beauty and the CEO. As most of my Once Upon a Tiara Series, this story deals with a former beauty queen. Kenzie Swayne comes from a long line of pageant queens. She's the last of her family to hold the title Miss Southwood. But don't let the tiara fool you. Kenzie prides herself on her PhD in History and has become Southwood's leading historian—okay, the city's only historian. For all her hard work though, it still doesn't get Kenzie a steady-date for a summer month filled with weddings, a gala, and a beauty pageant. Enter, Ramon Torres. Last summer she fell hard for him when they worked together when he accommodated a beauty pageant at his hotel boutique. But once the final crown was placed, Ramon cut his ties with Kenzie without so much as a word. So for the past year, she's been the petty queen—until she realizes he may be the only man to get her through the summer
Why did you decide to write it?
Alright, first I feel the need to explain why I have series on beauty queens. Beverly Cleary once said, "If you don't see the book you want on the shelf, write it." Well, I always wanted to be a beauty queen but I literally have two left feet and I'm not very graceful. So, I made my own batch of beauty queens in shades. So you have your queen in Tempting the Beauty Queen. I wanted to write Kenzie and her imperfections. Kenzie has a shelf filled with her accomplishments and still she has her own securities—like we all do. And of course, the characters were banging around in the back of my head until I did. Their tension lingered in my brain and may have even spilled out while writing A Tiara Under a Tree.
What do you want readers to learn from the story?
I want readers to learn not to judge their success based on someone else's time table. Ramon had to learn this and set boundaries. I wanted to write this to show that beauty queens are more than just a pretty face. Kenzie is smart and educated. I've met a lot of smart women working on their PhDs and no matter how well they're doing in school, they always hate the holiday breaks in fear of listening to that one older person in the family question why they're not married.
What do you want readers to learn from your life?
I want the readers to know and learn from my books and my life is that no matter what cards you're dealt, there are many ways to play the game… you know, make the best out of a bad situation… when life hands you lemons, turn them into lemon chiffon cupcake!
Who is your favorite author and why?
Oh man! This is my least favorite question in the world. I'll give you the best way I can answer it—first name is BevBrendaRochelle and the last name is JenkinsJacksonAlers. These three (if you haven't been able to decipher it) authors play such a pivotal role in my life. Beverly Jenkins gave me life with her historical romance and saved my six-week-old marriage when I was sure my husband did not understand me or know me at all. To stop me from leaving he gave me a present to prove he did. It was Beverly's first book…and this meant he had to go to the bookstore and speak with someone to have it ordered. Pre-Amazon folks! Reading her books gave a view, approval, and a glimpse of love for us. Brenda Jackson and Rochelle Alers were my no-questions-asked-automatic-buy authors. In the mid 1990's they were writing what I wrote… but they were getting published. A series of books, connected but could also stand on their own. I also named my son Joshua after Rochelle's Joshua Kirkland from Vows. At a Romance Slam Jam (RSJ) in Orlando, 2001, I got a chance to meet Brenda and Rochelle. They were real and human. I won two awards at the conference. I remember Brenda's family congratulating me and telling me to never stop writing, just like Brenda. The following year RSJ was in Atlanta. I came late, walked into the ballroom and of course felt socially awkward. Brenda made a beeline to me and hugged me. She has this knack for making you feel like you're cool. I'm always honored when they speak to me. These three authors connected me to a group of diva friends who share the same love for reading.
What's next for Carolyn Hector?
I wish you could see the sad face I am making right now. Sadly, my journey with Harlequin Kimani is about to come to an end. I'm currently working on the last few books of the Once Upon a Tiara series. After that…we'll see. I have a lot of completed books; it's just about trying to find a home for them. I'm learning. Slowly.
Do you have anything you would like to add?
In this artistic world we live in, I feel like the character French Stewart played in this old show called 3rd Rock from the Sun. I know I'm dating myself. They had the High Commander, the military officer, seasoned intelligence officer, and then the narrator says…well, they had an extra seat. I'm the French Stewart in this world. I'm a complete fangirl, total introvert in large crowds, but completely obnoxious and inappropriate once you know me. If I seem scatter-brained, I am. I'm trying to raise five boys who are eventually going to be real-life heroes one day. Four are my nephews and then I have a son. Their ages are 13, 14, 15, 15½ , and 17. My daughter is 21 and talking about moving out and leaving me home with all this testosterone. Sheesh! Pray for me!
Learn more about Carolyn Hector:
Twitter: @carolyn32303
Instagram: romancing_carolyn
check out her occasional, scrappy-so-totally-needs-work blog carolynhector.com and through all of those, you can find the short link to that totally long Facebook link.