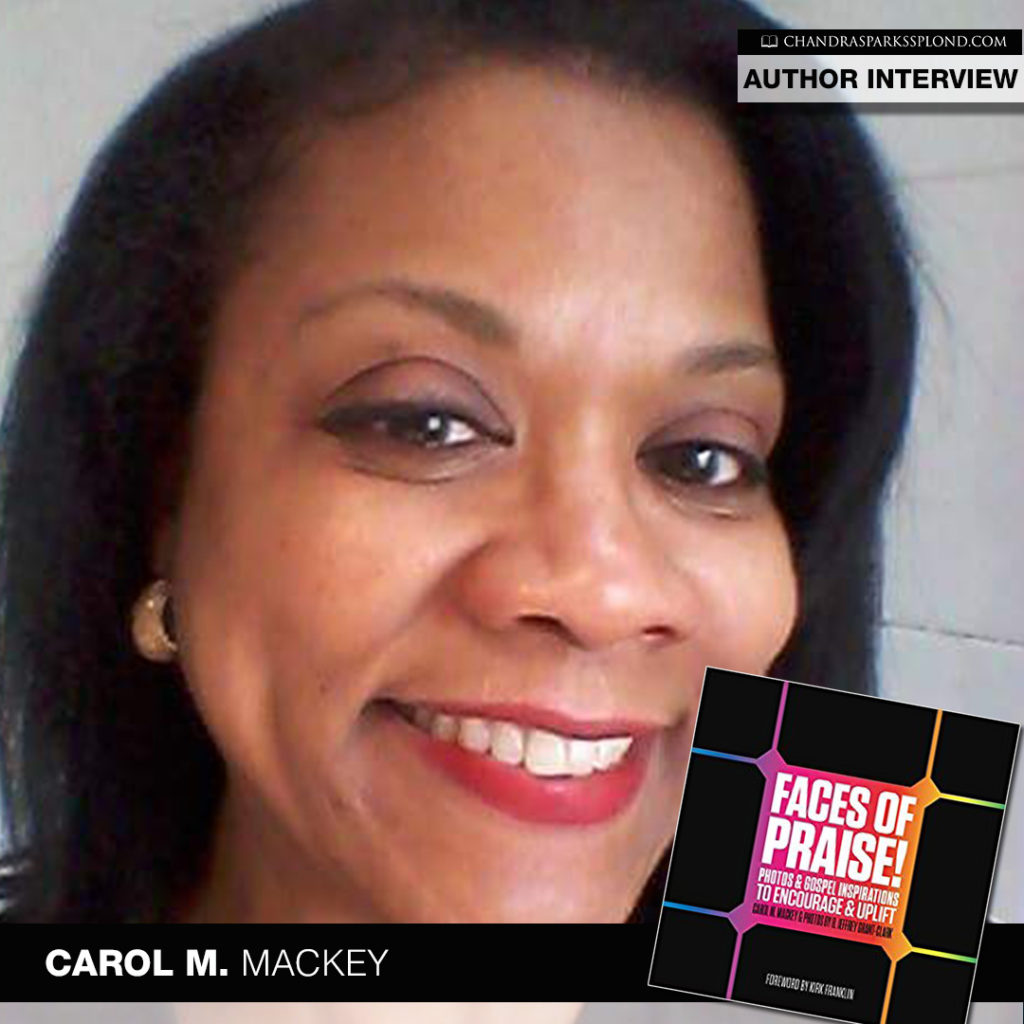 In need of a praise break? Author Carol M. Mackey offers readers a gift in her latest release, Faces of Praise!
Tell me about your book, Faces of Praise!
Faces of Praise is a beautiful gift book filled with never-before-seen photos of top gospel music artists and includes powerful, uplifting devotions based on their song titles. It's a must-have for gospel music fans, photography buffs and of course, fans of my book, Sistergirl Devotions! It's more than a coffee table book—it's a unique combination of striking photos and uplifting devotionals.
Why did you decide to write it?
I met my co-author, photographer Jeff Grant at our mutual friend's wedding. Our friend knew Jeff wanted to publish a book of his photographs and I was editor in chief of Black Expressions at the time. Jeff was (a senior vice president) at Sony Music, and we became fast friends. One day over lunch, he showed me his photographs of not only the famous gospel artists he worked with, but of ordinary church folks, all in various phases of worship. The images were awe-inspiring and the first words that came out of my mouth as I scrolled through each one were "These are the faces of praise!" Jeff and I talked about one day doing a book, but I was in the middle of a divorce. I knew one day we'd work together but not at that time. That was in 2012. My friend and publishing veteran Adrienne Ingrum called me in the spring of 2016 and asked if I had anything that could be published. I hadn't spoken to or seen Adrienne in years. As the new executive editor at Faith Words, she was looking for projects (she knew I had written Sistergirl Devotions in 2010). I had one, but it wasn't a Christian book. So I pitched the idea of Faces of Praise! a photo book of some of gospel music's top artists paired with devotions based on their song titles. She loved it! And here we are. I give God all the glory because His timing is perfect. He knew the desires of my heart and Jeff's and opened a door at just the right time. I pray it will bless our readers.
What do you want readers to learn from the book?
I want them to know that God is with them every step of the way, even when you think He's not there. I want them to know that God has them on His mind all the time and He wants only the best for His children. I want them to know that He is always working behind the scenes on our behalf to bring about the best outcome possible for our lives, even if we can't see it at the time. We may not always get what we want, but we will always get what we need. As for learning something from the book, I think that absolutely we can all learn from each other's experiences and mistakes. I've bumped my head more than a few times, and I'm not ashamed to share my blunders if they will prevent someone else from doing the same. We're here to help each other. I believe transparency is essential to do that. None of us is perfect, but we serve a God who is.
What do you want people to learn from your life?
Just because you're a Christian doesn't mean you will have a smooth, pain-free life. There will be bumps in the road. The last few years have been very trying for me and I talk about them in the book. In late 2013, I got laid off from my job at Black Expressions. A few months later, my mom died. All this while I was going through a bitter divorce after 25 years of marriage. I felt like the rug had been pulled from under me—one punch in the gut after another without any letup. I was emotionally wiped out. I had no strength. So I had to rely on the Lord's strength. Grief, heartache, disappointment and loss touches the strongest believer. None of us is exempt. And none of us want to feel alone. I'm a realist. I know stuff happens. But what I learned was that the Lord is always there to shoulder it with you. It's easy to feel alone when you're going through. The truth is, storms and trials will come. They're unavoidable. Just when I thought I'd lose it, God showed me He was still with me and wasn't going anywhere. Things got bad, He held me tighter. I learned to praise my way through the storm because Jesus was holding me down even though I was soaked and the devil is laughing in my face. His presence makes all the difference. That's one of the main takeaways that I want readers to see in Faces of Praise.
What is the biggest lesson you learned from the people profiled in the book?
That we all have a cross to bear. Although these artists are singing the Lord's praises, are internationally known and mega-talented, they were not exempt from heartache or challenges. As I did research on many of them, I was inspired by their faith in God and courage to press on despite their challenges. I discovered Richard Smallwood battled depression and Isreal Houghton had gone through a tough divorce. These men and many others are champions because they persevered and continued to minister in song despite the setbacks. Their faith brought them through. Their testimonies prove that.
What's next for Carol M. Mackey?
More books! I'm one of the contributing authors in Mornings With Jesus, a daily devotional to be published by Guideposts in 2019. I guess I'm becoming the devotional queen! LOL. Seriously, I do have a couple of ideas to pitch to my editor within the next few months. I want to keep writing. I get joy knowing I can encourage people in their walk with Christ. He blesses me every day, and I want others to know that joy.
Use my affiliate link to order Faces of Praise! on Amazon.
Connect with Carol Mackey via social media:
Facebook: The Carol Mackey Fan Page
Instagram: cmmack45,
Twitter: carol_mackey