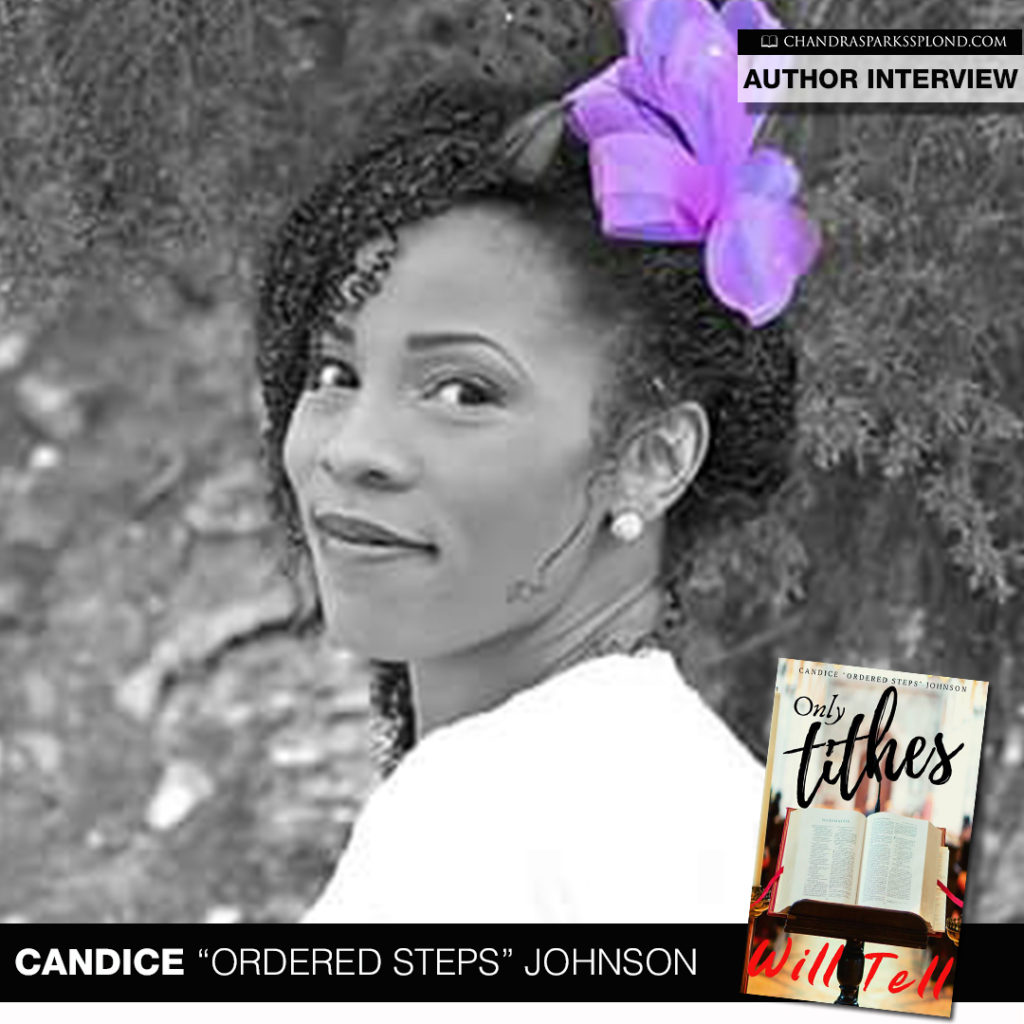 Author Candice Johnson is sharing a few secrets in her latest release, Only Tithes Will Tell.
Tell me about your latest book, Only Tithes Will Tell. 
Only Tithes Will Tell takes readers on the journey of flawed believers—fighting religious traditions, losing faith and searching for the strength to overcome. In the middle of their struggles, some tithe and some don't, but do "first fruits" supersede God's commandments?
Why did you decide to write it?
The Holy Spirit literally dropped the title in my lap at the oddest time. From that moment, the story began forming itself, characters began speaking, and my heart was all in. I wanted Only Tithes Will Tell to be a voice for the broken and say the things they dare not out of fear. I have the fear of God, but He has not given me the spirit of fear.
What do you want readers to learn from the story?
I want so much for readers to know that it's alright to protect your peace—whatever that may be. Christianity does not make us victims. The "church" cannot be blamed for our hurt, but we are accountable for how we treat one another, and getting the help that we need. Mostly, I want readers to see that no matter where we are in our walk, perfection is not a requirement for God to love us.
What do you want readers to learn from your life? 
I want readers to learn that it's alright to cry, but we have to keep going. If anyone looks at my life, I want them to see me overcome; falling doesn't mean it's over. It gives God a greater canvas to do the work in us. I want readers to see that I never gave up—and they don't have to either.  It's never too late to dream…I just do it with my pen.
Who is your favorite author and why? 
This is so hard, because I love oodles of authors, LOL! However, my favorite is Victoria Christopher Murray—my mentor. Twenty years ago, she introduced me to Christian fiction, and I fell in love with her work. All these years later, I had the honor of working with her on my eighth title—the number of new beginnings.
What's next for Candice "ORDERED STEPS" Johnson?
I'm so glad you asked! I'm turning my first book baby, Practice What You Praise, into a short film in July, yay! I'm also working on a Christmas book and rewriting my next novel for release, Send A Revival. God is truly blessing my pen.
Do you have anything you would like to add?
I just want to appreciate you and your awesome readers for investing in my pen. The literary industry truly takes a village; I am overwhelmed by the outpouring of love and support. I'll do my best to make sure you feel inspired each time I type "The End."
Use my affiliate link to purchase your copy of Only Tithes Will Tell.
To learn more about  Candice "ORDERED STEPS" Johnson, visit her website or connect with her on social media.
Facebook: Author Candice Y. Johnson
Twitter: @Authorcandicej
Instagram: @naturaldancer
Email: candiceosp@gmail.com