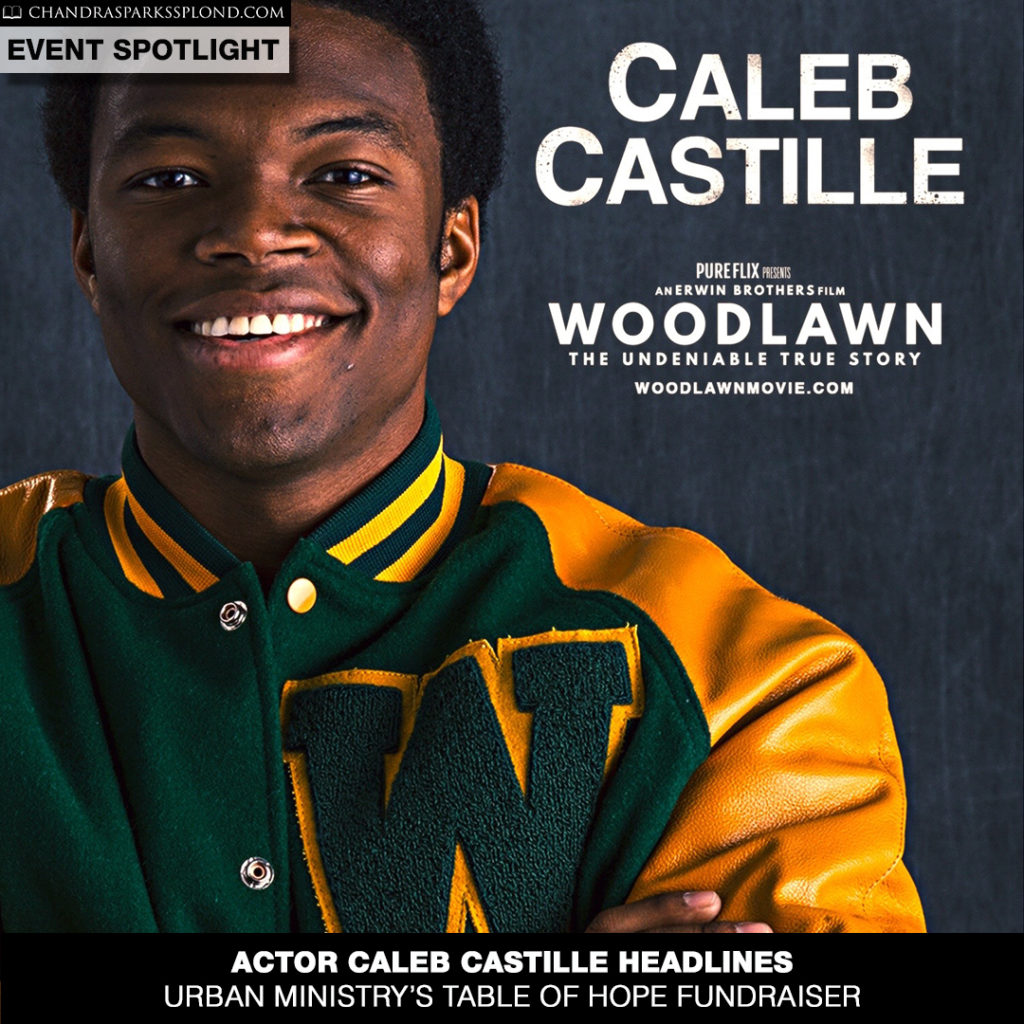 Woodlawn actor and former University of Alabama football standout Caleb Castille will keynote the annual Table of Hope fundraiser Thursday, September 21 bringing his special message of hope and motivation. The deadline to purchase tickets is September 19.
Table of Hope is the signature fundraiser of Urban Ministry featuring fine dining, inspirational speaking, and a silent auction, all against the beautiful backdrop of the historic Florentine and the best of Birmingham's community gathered to support the programs and outreach of Urban Ministry.
"We are looking forward to hearing the motivational message of hope from Woodlawn movie star Caleb Castille, and the inspiring words of one of our very own junior staff interns," said Urban Ministry's development director Angela Rasheed. "Table of Hope is a coming together of the best of Birmingham's philanthropic community to help support the programs and services of Urban Ministry. As our largest fundraiser, we would not be able to meet the needs of so many if it weren't for those who support this event.
"One important part of #tableofhope17 is our silent auction, which features some amazing prizes like football tickets, vacation stays and more. Proceeds from this event alone help to ensure more families are fed, the sustaining of our workforce and life skills development program and more education for our students from our Urban Kids afterschool program."
Table of Hope tickets, tables and sponsorship packages can be purchased at www.tableofhope.swellgives.com.
Individual tickets are $150. Tables are available for corporations and organizations to purchase for $1,500. Sponsorship opportunities are also an option. Doors will open at 5:30 p.m. for silent auction bidding to begin in the café. Dinner will be served at 6:45 p.m. in the ballroom where Caleb Castille will speak.
About Joshua "Caleb" Castille
Joshua "Caleb" Castille grew up in one of Alabama's leading football family dynasties. Two generations of Caleb's family-his father, Jeremiah, and his two older brothers, Tim and Simeon-played football at the University of Alabama and went on to play in the NFL. A 2010 "walk on" himself, Caleb went on to win back-to- back national championships with the Alabama Crimson Tide before walking away from the team to pursue acting. Caleb was one of hundreds of actors and football players who sent in an audition tape for the lead role of the young Tony Nathan in Woodlawn. When the original actor left the project Caleb Castille became "Woodlawn's" Tony Nathan.
About Urban Ministry
Founded in 1978, Urban Ministry has a mission to serve poor and low-income persons in the Birmingham area with programs of compassion and wholeness. Programs offered on a completely non-sectarian basis include: Joe Rush Center for Urban Mission, Beeson Senior Services, Urban Kids After School and Summer Enrichment Program, Food Assistance, Homelessness Prevention, Transportation Ministry, partnership with Community Church Without Walls and social enterprises WE Community Café and WE Community Gardens. Together these programs address the long-term causes and consequences of poverty creating opportunities for individuals to find wholeness as part of a healthy, supportive community. Urban Ministry is an inner-city ministry founded by the United Methodist Church in Birmingham, Alabama.