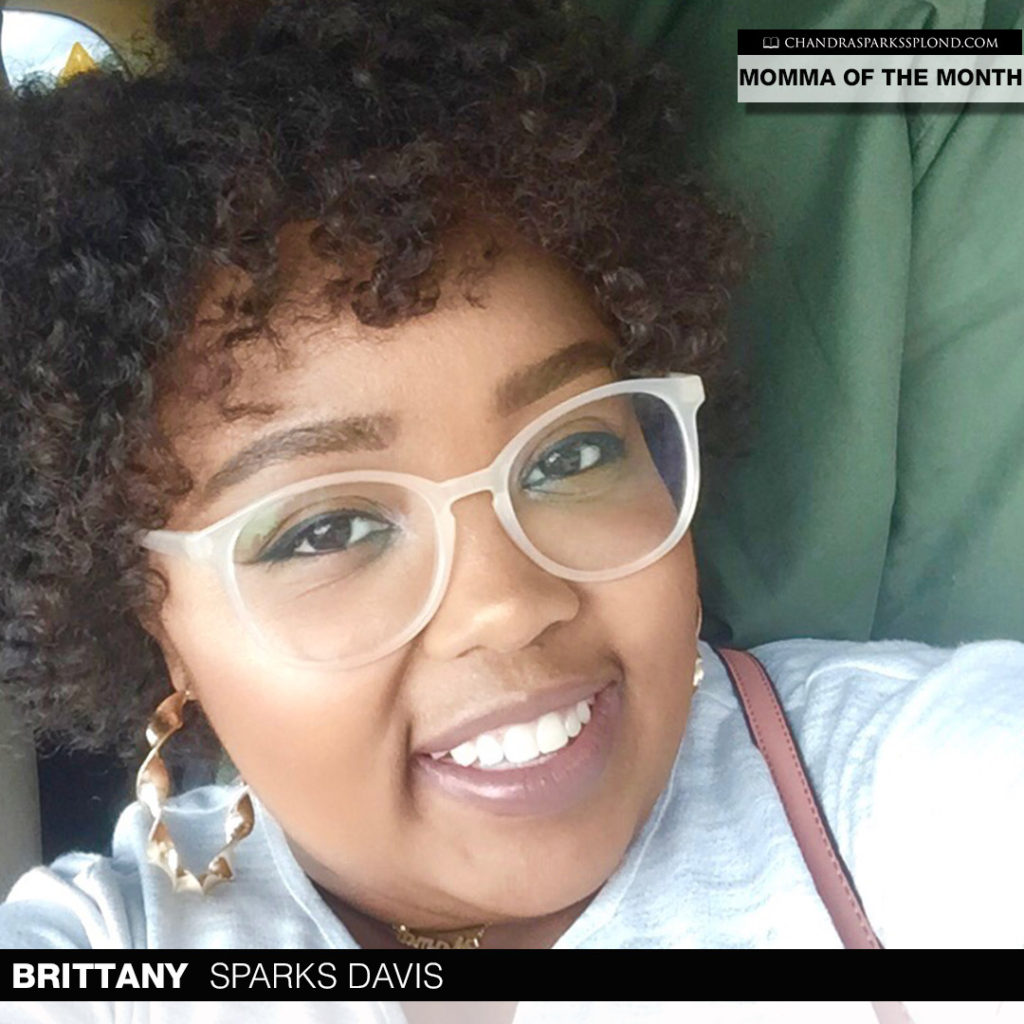 It has been a rollercoaster year for the February Momma of the Month, Brittany Sparks Davis. I recently spoke with the new mom about how having a baby has changed her life.
Tell me about yourself.
Brittany Sparks Davis, 29 years old. I grew up right her in the beautiful Birmingham, Alabama. I attended Ramsay High School and The University of North Alabama for undergrad and nursing school. Sunday is probably my favorite day of the week because I am able to go to church and worship with an amazing group of people at the friendliest church from the parking lot to the pulpit (Forty-fifth Street Baptist Church). Learning more about Christ and studying God's word is something I love doing. I write a blog call untilnothingsleft.com  where I write about life experiences and my relationship with God and how he has changed my life. I am currently an assistant nurse manager at UAB Hospital on a gastrointestinal and surgical oncology floor.  My husband is George Davis. He grew up here in Hoover, Alabama, and he is currently a firefighter for Birmingham. My son is George Solomon Davis, and he will turn one on February 16. He is truly a gift from God. He has changed my life for the better!
What do you want your son to learn from your life?
I want him to know that I love hard and that there is absolutely nothing wrong with him doing the same. There are times that I have been hurt and misused for loving people who didn't appreciate it, and those were lessons learned, but all in all, I wouldn't change my heart for people. I think it's important for people to know you love and care about them. I will always express my love to him and will teach him to express his love as well.
What are the best and worst things about living in Birmingham?
So I really love being in Birmingham. I couldn't imagine myself living anywhere else honestly. So if I had to narrow down this answer I would say the Best thing about living in Birmingham is the fact that my family is close. When I went to school in Florence, Alabama (about two hours away), I truly realized how important it was for family to be near you and how amazing it feels to be able to get to them in less than twenty minutes. Since I really love Birmingham, finding something bad is hard. Aside from the crime, which is obvious, I would probably say the fact that we can't have midwives here is a big one. I would love to further my career and be a midwife, but that's not possible here currently.  (This is technically an Alabama thing.)
If you could change one thing about Birmingham, what would it be and why?
I guess that piggybacks on the question three. It would be the fact that we can't legally have midwives practicing here. I would love to eventually do that.
What has been the biggest parenting surprise?
Well… I could go on and on about this. Probably how fast George Solomon has grown. He is was three pounds, 12 ounces when he was born and so very tiny. He is 20 pounds now and so silly and loving—everything and more I could have ever imagined.  It is so true when they say the days are long but the years are short. I am cherishing every moment.
What is your proudest wife moment?
Now this is easy—doesn't take much for George to make me proud. There have been a lot of times when I have been in awe of him. I think when I was most proud was when we were in the hospital waiting for the baby to come and he was so strong and resilient. Although he was exhausted and scared, he never showed it. He always stayed composed but still showed concern. Unless he was at work, he never left me by myself. He was amazing!
What advice do you have for women juggling a career with raising kids?
Communication. Whether it be to your spouse or anyone who might be helping you. It is just not feasible for us to do everything, and we need help. Don't be afraid to ask. Don't hesitate to communicate when you are happy about something. People don't know you need help unless you voice it.
What's next for Brittany Sparks Davis?
I am really not sure. If for some reason Alabama gets legalized midwives I will go to school for that but until then I am satisfied being at UAB. As far as children I don't mind having 1 or 2 more. J
Is there anything you would like to add?
I am proud to be George's wife and George Solomon's mama! I am so blessed to have them!