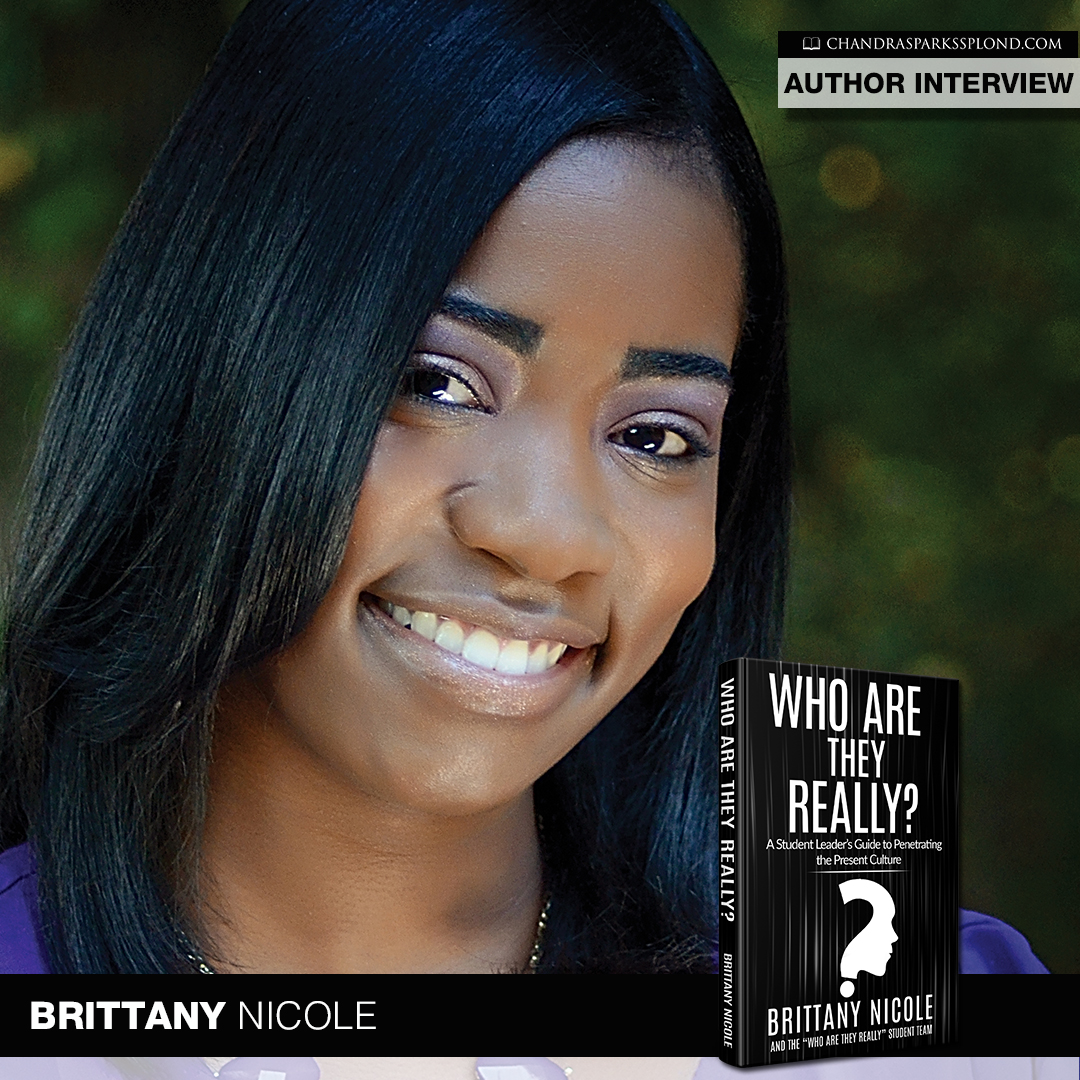 Author, speaker and blogger Brittany Nicole wants to help you penetrate the present culture and inspire a movement to help empower students. I recently spoke with her about her new book, Who Are They Really? A Student Leader's Guide to Penetrating the Present Culture.
 Tell me about your book, Who Are They Really? A Student Leader's Guide to Penetrating the Present Culture.
Who Are They Really is a book designed for any person who leads students—student pastors, student leaders, volunteers, and even parents. Our desire in writing this book was to provide the youth development sector with a resource that would enhance the impact made with students. Written with a focus group of middle school, high school, and college-aged students, Who Are They Really? is bound to provide any leader or parent with practical applications to connect with this present culture from a Biblical perspective.
Why did you decide to write it?
While speaking at various student events over the past 13 years, I have always gotten the same question from student leaders—how do we connect with our students? I've always endeavored to give sound advice even as I matriculated through my own adolescent years. I was honored then that leaders would ask a teenager their thoughts on this topic, and I still believe students are the best guides to how to be effective in student ministry. For this reason, I wrote Who Are They Really? with a focus group of students to give them a voice and hopefully bridge the gap that is so prevalent between students and adults today.
I'm thankful for the opportunity to have been given this platform even while developing as a student myself. My prayer is that Who Are They Really? will truly be a guide for student leaders to positively penetrate this present culture.
What do you want readers to learn from the book?
Our prayer is that readers gain three things:
A sound understanding of the characteristics needed to truly impact students.
An ability to accurately determine whether working/volunteering in the youth development sector is truly their calling.
A repertoire of practical steps they can take to penetrate the present culture.
What do you want people to learn from your life?
I have devoted my life to the fulfillment of my purpose. When Jesus walked the Earth, the only thing  He did was the will of God. I aim each day to do only what I know I'm purposed to do and in doing so impact the lives of those God has entrusted to me. I hope others gain a renewed ability to trust God in their own purpose as we work toward our global purpose of fulfilling the Great Commission together.
What was the hardest part about writing the book?
The technical side of writing was the hardest for me. My first book, Defining Moment, was written as a small pocket size book six years before it was published, so when I decided to rerelease it, it only required me to revamp and expand. However, Who Are They Really? was written completely from scratch and is over twice as long. The nuances of writing a book that reflected my voice yet engaged the reader and was thoroughly formatted was a challenge, but I'm excited that it is finished and pray it is a blessing. Its completion is a blessing to me if to no one else. J
What's next for Brittany Nicole?
I actually believe I'm being prompted to write a book about fulfilling purpose in the face of loss. My husband and I lost our first two daughters, Niya and Madison, over the course of thirteen months and through this, God continues to teach us so much. I believe He is preparing my heart to share it with the world and particularly with others in the infant loss/infertility community. I'm excited to see what God wants to do through it and hope to get started really soon.
Do you have anything you would like to add?
I hope that every person who reads Who Are They Really? begins to take the responsibility to impact the students within their sphere of influence. As adults, we have communicated to our students through words and actions that they are a lost cause. I don't believe this has to be true. Let's begin a movement of empowering students together one student at a time.
 To learn more about Brittany Nicole, visit her website or connect with her on social media.
Facebook: Brittany Nicole
Instagram: @authorbnicole
Twitter: @authorbnicole
Use my affiliate link to purchase your copy of Who Are They Really? A Student Leader's Guide to Penetrating the Present Culture.