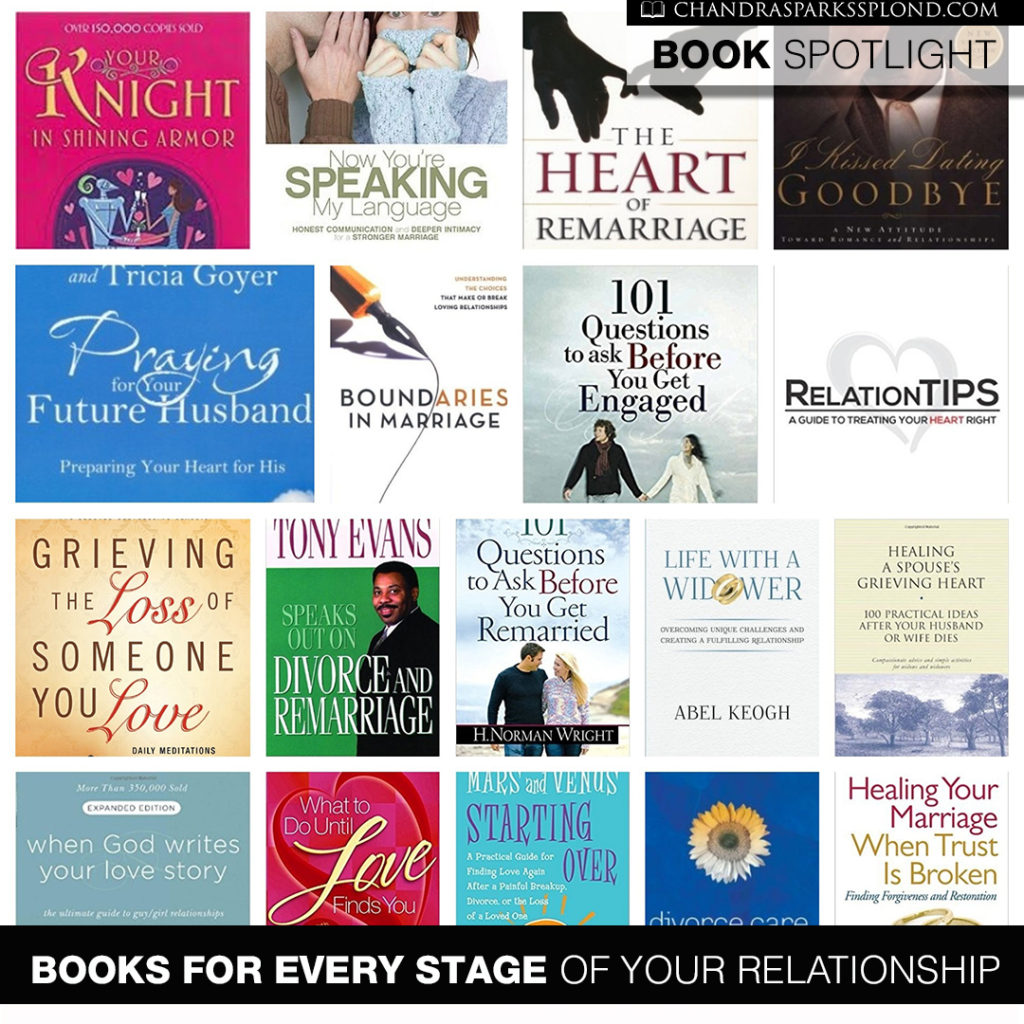 Whether you're single and your heart's desire is to be married or you're grieving the untimely death of a spouse, there's a book for that. Here are a few to help you wherever you are on your relationship journey.
Dating Books
Boundaries in Dating
Henry Cloud and John Townsend
This road map will help you grow in freedom, honesty and self-control.
Praying for Your Future Husband
Robin Jones Gunn and Tricia Goyer
While you're waiting on "the One," learn how to pray boldly for your future mate.
What to Do Until Love Finds You
Michelle McKinney Hammond
Godly advice on such issues as handling sexual temptation and releasing expectations.
I Kissed Dating Goodbye: A New Attitude Toward Relationships and Romance
Joshua Harris
This book, which has sold more than 800,000 copies, provides solid, biblical alternatives to society's norm.
Promises From God for Single Women
T.D. Jakes
Scripture and wisdom help guide those looking for love.
When God Writes Your Love Story
Eric and Leslie Ludy
Discover how beautiful your love story can be when it's written by the Author of romance.
Waiting and Dating
Myles Munroe
Advice on discerning the right mate and the importance of true friendship in a relationship.
Your Knight in Shining Armor: Discovering Your Lifelong Love
P.B. Wilson
Readers will discover what they need to change to make themselves attractive to godly men.
Engagement Books
Things I Wish I'd Known Before We Got Married
Gary D. Chapman
Discover kills to work together as intimate teammates and have the marriage we all long for.
Getting Ready for Marriage Workbook
Jerry D. Hardin and Dianne C. Sloan
Learn the roots of your beliefs about marriage and address potential problems.
Saving Your Marriage Before It Starts
Les and Leslie Parrott
Uncover deeper levels of intimacy.
101 Questions to Ask Before You Get Engaged
H. Norman Wright
Soul-searching questions to help discern if you've really met "the One."
Marriage Books
Boundaries in Marriage
Henry Cloud
Apply the 10 laws of boundaries by understanding the betrayals in your marriage.
His Needs, Her Needs: Building an Affair-Proof Marriage
Willard F. Harley Jr.
Learn how to become irresistible to each other and how to love more creatively.
Sheet Music: Uncovering the Secrets of Sexual Intimacy in Marriage
Kevin Leman
This book addresses those with no sexual experience, past sexual problems and even abuse.
How We Love: Discover Your Love Style, Enhance Your Marriage
Milan and Kay Yerkovich
Readers learn to identify and address marital missteps like arguing over the same issues.
Marriage Matters
Tony Evans
Discover steps to developing and maintaining a healthy relationship.
Now You're Speaking My Language
Gary Chapman
Learn how to develop better intimacy and communication with your spouse.
The 4 Seasons of Marriage
Gary D. Chapman
Whether you're in winter (dissatisfied) or summer (enjoying life), spot the seasons of marriage.
52 Ways to Connect as a Couple
Jay Payleitner
These fun, creative ideas help you deal with marital obstacles and how to overcome them.
101 Simple Ways to Show Your Husband You Love Him
Kathi Lipp
Let your actions speak louder than your words with ideas from this book.
Separated/Divorced Books
Healing Your Marriage When Trust Is Broken
Cindy Beall
A respected pastor's wife reveals how to help the family heal after her husband's affairs.
Mars and Venus Starting Over
John Gray
Gender-specific advice on dealing with pain, finding forgiveness and rebuilding confidence.
Divorce Care: Hope, Help, and Healing During and After Your Divorce
Steve Grissom and Kathy Leonard
This daily devotional helps readers discover divorce can be a powerful catalyst for good.
Finding the Right One After Divorce
Edward M. Tauber and Jim Smoke
Learn the 13 wrong reasons to remarry.
Remarriage Books
Tony Evans Speaks Out on Divorce and Remarriage
Tony Evans
Gain invaluable insight into divorce and remarriage by exploring real-life fears.
Saving Your Second Marriage Before It Starts
Les and Leslie Parrott
Learn to build a solid foundation for lifelong love.
The Heart of Remarriage
Gary Smalley and Greg Smalley
Practical ideas for connecting with your spouse and children.
101 Questions to Ask Before You Get Remarried
H. Norman Wright
Understand where you agree and disagree with your future mate on previous relationship issues.
Widow/Widower Books
Finding Your Way After Your Spouse Dies
Marta Felber
Sound, practical suggestions on how to navigate difficult days.

Widow To Widow: Thoughtful, Practical Ideas For Rebuilding Your Life
Genevieve Davis Ginsburg
Sage advice, including traveling and eating alone, creating new routines and surviving anniversaries.
Dating a Widower
Abel Keogh
Unique insight into the hearts and minds of widowers.
Healing a Spouse's Grieving Heart: 100 Practical Ideas After Your Husband or Wife Dies
Alan D. Wolfelt
Practical tips on how to dispose of a mate's belongings and redefining roles with family.
I Wasn't Ready to Say Goodbye
Brook Noel and Pamela Blair
This book covers such difficult topics as the first few weeks, suicide, funerals and depression.
Grieving the Loss of Someone You Love
Raymond R. Mitsch and Lynn Brookside
Understand the cycles of grief and sort through the emotions of anger, guilt and fear.
Any Stage Books
Single, Married, Separated and Life after Divorce
Myles Munroe
Learn what it really means to be single, married, separated and divorced.
RelationTips
Anthony D. Sparks
Whether you just broke up or you've been married for years, ensure you're treating your heart right.