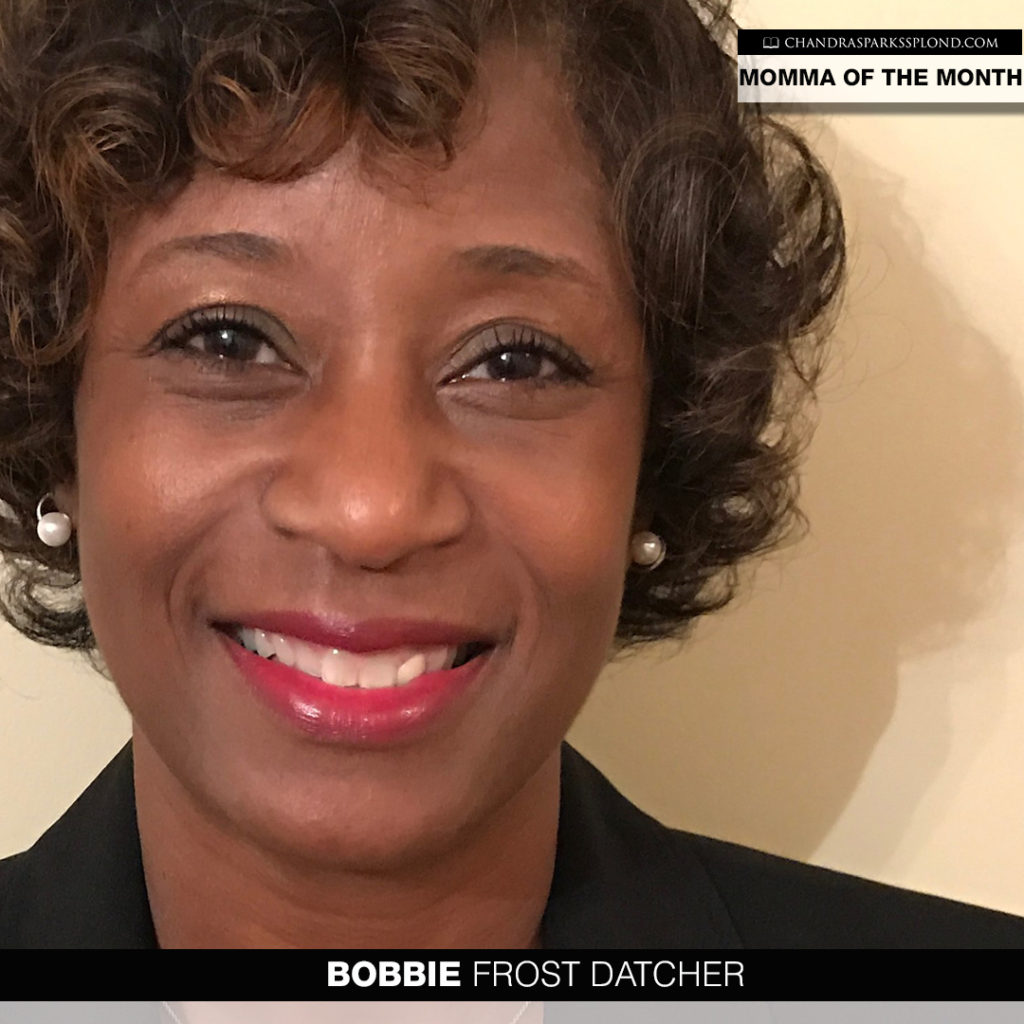 The January 2018 Momma of the Month, Bobbie Frost Datcher has learned the power of keeping God first in everything you do.
Tell me about yourself.
Bobbie Frost Datcher;  48 years old; Grew up in Greenville, Alabama (40 miles south of Montgomery); Son, Marcus Andrew Datcher, 18 years old; 1987 graduate of Greenville High School and 1991 graduate of Troy University with a major in Finance and Business Administration.  Employed at Regions Bank as an Operational Risk Analyst.  Throughout the 25 years, nine months career at Regions, I've served in business management positions involving procedural documentation, training and project management.
What do you want your child to learn from your life?
Regardless how big or small the task, always give 100% effort.  There are some things in life I don't believe you should suddenly quit.  Have a plan in place to bring it to an end.  It's my belief that quitting in the middle of something and walking away results in you quitting things for the rest of your life.  If there's something you want, go after it…Perseverance.
What are the best and worst things about living in Birmingham?
When I lived in Birmingham during the early 90's, I loved being in the middle of what I thought was everything, especially shopping.  It was great having so many choices of things to do and places to go for entertainment.  Remember, I was from a small town in South Alabama.  Currently, I have lived in Childersburg, Alabama, for 20 years.  I love Childersburg because it allows me to escape the hustle and bustle of Birmingham.  It's amazing how age and family changes your perspective on how you prefer to live.
If you could change one thing about Birmingham, what would it be and why?
Make it a more family oriented city.  Have an open environment to enjoy family on weekdays and weekends.  Would love to see people/families walking the streets of Birmingham going in and out of shops; street markets on corners; open play areas for children, etc.
What is your proudest mom moment?
When my son traveled out of town once without us, he told me that he looked to his shoulder to hear that voice (my voice) advising on a decision to make.  At that moment, I knew that he listened to my speeches even though he didn't appear to most times.  I was so proud of him for admitting and very proud to be his mom.
What is your proudest wife moment?
Cooking a complete holiday meal.  My cooking skills were very limited when I got married.  After being married for approximately 16 years, I finally got up the nerve to tackle cooking a complete holiday meal for my family, including my mom and siblings.  My mom was a nervous wreck about it, too.
What advice do you have for women juggling a career with raising kids?
Stay organized so that you can plan to accomplish more.  With organization, everyone will most likely be happy and you will be less stressed.
What's next for Bobbie Frost Datcher?
For the next four years, I plan to enjoy my son's experience as college student and as a baseball pitcher at Miles College.  We are extremely proud of him for being a student at a college first and also for earning a spot on Miles' baseball team's roster to travel and play his freshman year.
Is there anything you would like to add?
I've been married to Marcus N. Datcher for 23 years.  Keep God first in everything that you do, and I promise He will make a way out of no way.  I'm a witness and have been blessed beyond measure with a heart filled with love and enough strength to carry on.