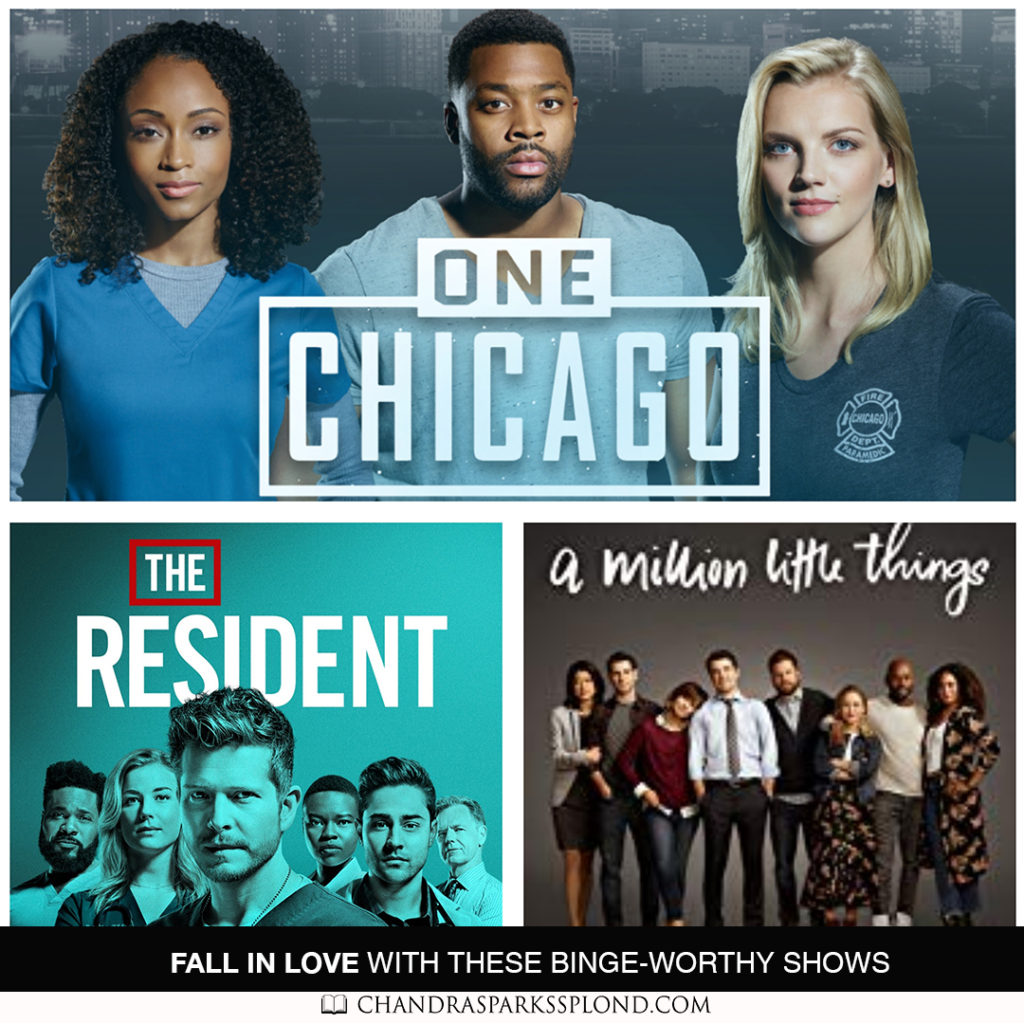 We're only a couple of weeks away from the start of the fall premiere of television shows. If you're like me, you're always looking for a great show to enjoy. Here are a few of my favs that are returning for you to binge in case you're looking for a new-to-you show or something new with which to fall in love. Most are available on Hulu, Netflix or Amazon Prime.
God Friended Me
What would you do if God sent you a Facebook friend request? This is the premise of God Friended Me, a drama about an outspoken atheist whose life is turned upside down when he receives a friend request on social media from God and unwittingly becomes an agent of change in the lives and destinies of others around him. The main character, Miles Finer, is determined to get to the bottom of what he believes is an elaborate hoax, but in the meantime he'll play along and, in the process, change his life forever.
Law and Order: SVU
Although it might not be possible to binge all 20 seasons of this show before the new season premieres, it's definitely worth a look. There's a reason why this show is the longest running primetime live-action series of all time. Created by Emmy Award-winning Producer Dick Wolf, "Law & Order: Special Victims Unit," chronicles the lives of the Special Victims Unit of the New York City Police Department, an elite squad of detectives who investigate crimes of sexual assault, child abuse and domestic violence.
The Chicago Franchise
Whether it's Chicago Fire, Chicago Med or Chicago P.D., I watch them all. It's not surprising that Dick Wolf of Law and Order: SVU is the creator and executive producer of the franchise. Although the shows stand on their own just fine, a lot of times they do crossover episodes.  The Chicago franchise focuses on the professional and private lives of the firefighters, police officers, emergency medical personnel, and legal professionals who serve the city of Chicago. A recurring and unifying theme of the four shows is Molly's, a small bar owned by three firefighter, which has been frequented by characters from all four shows.
The Neighborhood
The Neighborhood is a nod to my childhood because it reminds me of the show All in the Family—in reverse. The series follows a white midwestern family as they adjust to moving into a predominantly African-American neighborhood in Los Angeles. It stars Cedric the Entertainer and Tichina Arnold.
This Is Us
If you're anywhere near Facebook on Tuesday nights, then chances are high that someone on your friends list is posting about This Is Us. The story of the Pearson family across the decades tugs at the heartstrings and stars Sterling K. Brown and Susan Kelechi Watson who portray married couple Randall and Beth Pearson are #couplegoals.
A Million Little Things
I watched commercials for A Million Little Things for the entire season last year before I finally decided to give it a try this summer. I binge-watched the entire series in two days. Based on the premise that friendship isn't one big thing, it's a million little things, the show follows a group of friends after one of them dies unexpectedly. It's just the wake-up call the others need to finally start living. Along the way they discover that friends may be the one thing to save them from themselves.
The Good Doctor
I had watched an entire season of The Good Doctor before I realized the main character, Freddie Highmore who plays autistic surgeon Shaun Murphy was the kid from Charlie and the Chocolate Factory. Shaun relocates from a quiet country life to join the surgical unit at the prestigious San Jose St. Bonaventure Hospital — a move strongly supported by his mentor, Dr. Aaron Glassman. Having survived a troubled childhood, Shaun is alone in the world and unable to personally connect with those around him, but he finds his niche using his extraordinary medical skill and intuition to save lives and challenge the skepticism of his colleagues.
The Resident
I can't remember how I stumbled across this gem of a show, but I do know I was hooked after the first five minutes of the first episode. The show revolves around the staff of Chastain Park Memorial Hospital and has an amazing cast, including my childhood crush Malcolm-Jamal Warner.
9-1-1
You can't go wrong with a show that's headlined by Angela Bassett. The series follows the lives and loves of Los Angeles first responders: police officers, paramedics, firefighters and dispatchers.
As you can see, I have a thing for medical, police and fire shows, but I'm willing to give anything a try once. What recommendations do you have of binge-worthy shows?