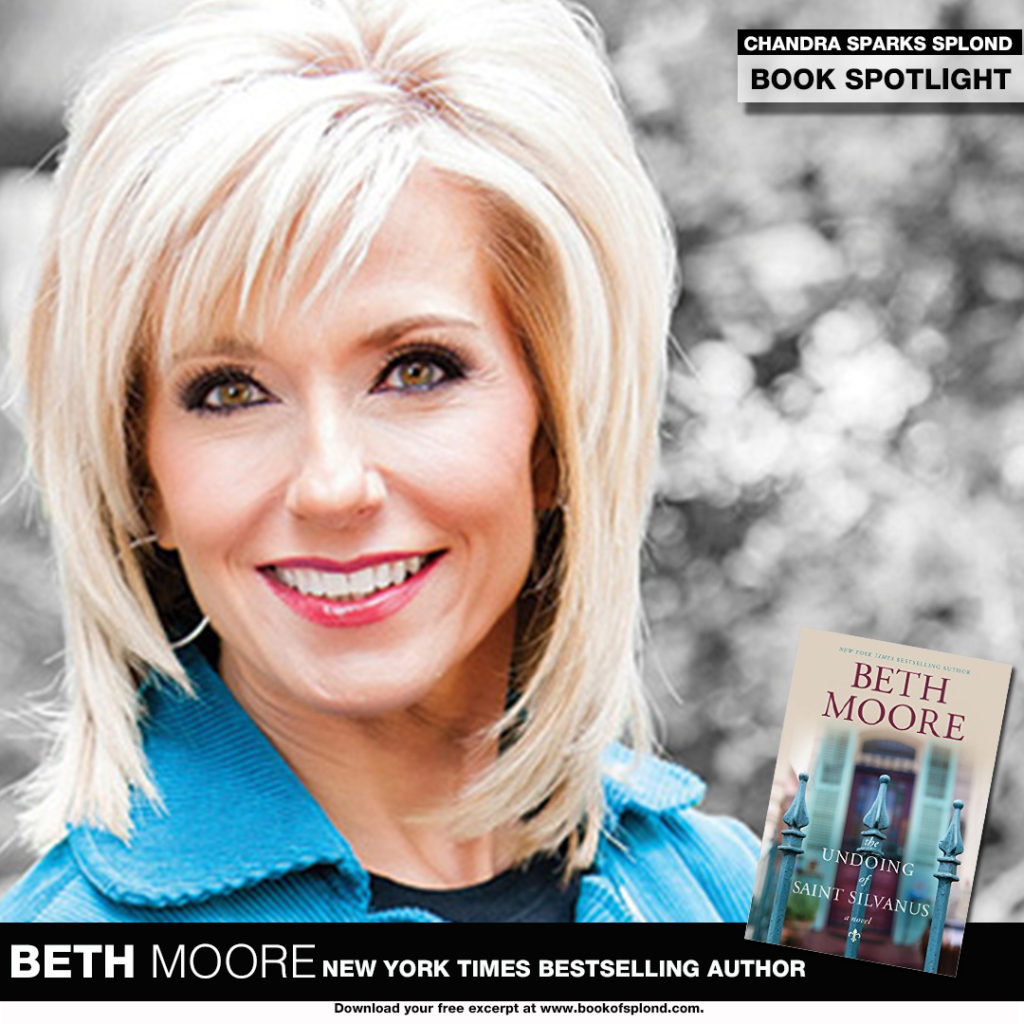 I'm pleased to share an excerpt from acclaimed Bible teacher and New York Times bestselling author Beth Moore's first novel, The Undoing of Saint Silvanus.
About the Book:
Only God knew why Jillian Slater agreed to return to New Orleans on the news that her father had finally drunk himself to death. It's not like they were close. She hadn't seen him―or her grandmother, the ice queen―in almost 20 years. But when Adella Atwater, the manager of her grandmother's apartment house, called and said Jillian's expenses would be paid if she'd fly in for the burial, a free trip to New Orleans was too intriguing to resist.
What Adella didn't tell her was that the apartment house wasn't a house at all and, whatever it was, bore the dead weight of a long and painful history. As soon as Jillian meets the odd assortment of renters and realizes that her grandmother had no idea she was coming, she hatches a plan to escape. But the investigation into her father's death quickly unfolds and Jillian is drawn into the lives of the colorful collection of saints and sinners who pass through Saint Silvanus. She soon discovers there is more at stake than she ever imagined. Who is behind the baffling messages and the strange relics left on the steps? Is it possible that her family is actually cursed? Or is it just this crazy old house that holds them all under its spell?
Jillian walks into a web of spiritual and personal danger borne out of her family's broken history, and despite Adella's wiliest efforts, only God himself can orchestrate the undoing of all that is going on at Saint Silvanus.
---
Excerpt:
Prologue:
Christmas Eve 1921
Reverend R. J. Brashear dipped the bread into the wine. He lifted his chin and stared at the stained-
glass image of Jesus, the rocking boat, and the daring disciple. Then he took the bread. Not a single ear was open when the gun went off.
---
Chapter 1
Present day
Sergeant Cal DaCosta glanced at the digits on his dashboard as he threw the car into park. "Sheesh. Eighty-four degrees and barely daylight. That body's going to be ripe." Several patrol cars were already at the scene, zigzagged all over the pavement. The lights were flashing but they'd saved themselves the sirens. As he shut the door and walked toward the small circle of officers, he took a few seconds to absorb how odd the ordinariness of it was. Only a handful of spectators were lurking. The few people on their way to work at this hour took the other side of the street to avoid the inconvenience. This was the nocturnal side of town, where the night was as the day. The patrol officers seemed almost as detached, chugging down weak coffee from a convenience store and eating something unidentifiable out of clear wrappers.
Sure enough, he got hit by a whiff of the body from twenty feet.
"How do you guys do that?"
"Morning, Sarge. How do we do what?"
"How do you eat with that smell? Can't you taste it?"
One of them mumbled as he stuffed the last bite of a sticky bun into his cavernous mouth. When the man licked his fingers, Cal decided he'd pass on breakfast. The odor radiating from the sidewalk wasn't so much the smell of death. Not yet anyway. It was the smell of filth, blown his way by a hot, humid gust that seemed to belch from the underworld. Frank Lamonte, Cal's closest friend and former partner, said what all of them were thinking. "Finally drank himself to death."
Cal imagined those five words etched beneath his own last name on a granite marker. At least half a dozen family members on his daddy's side were vying for the same epitaph. He'd considered
going to a couple of meetings to try to dodge the family fate, but opening up to people wasn't exactly his strong suit. Anyway, his alcoholism wasn't in a glass. He was scared it was in his blood.
Use my affiliate link to purchase your copy.