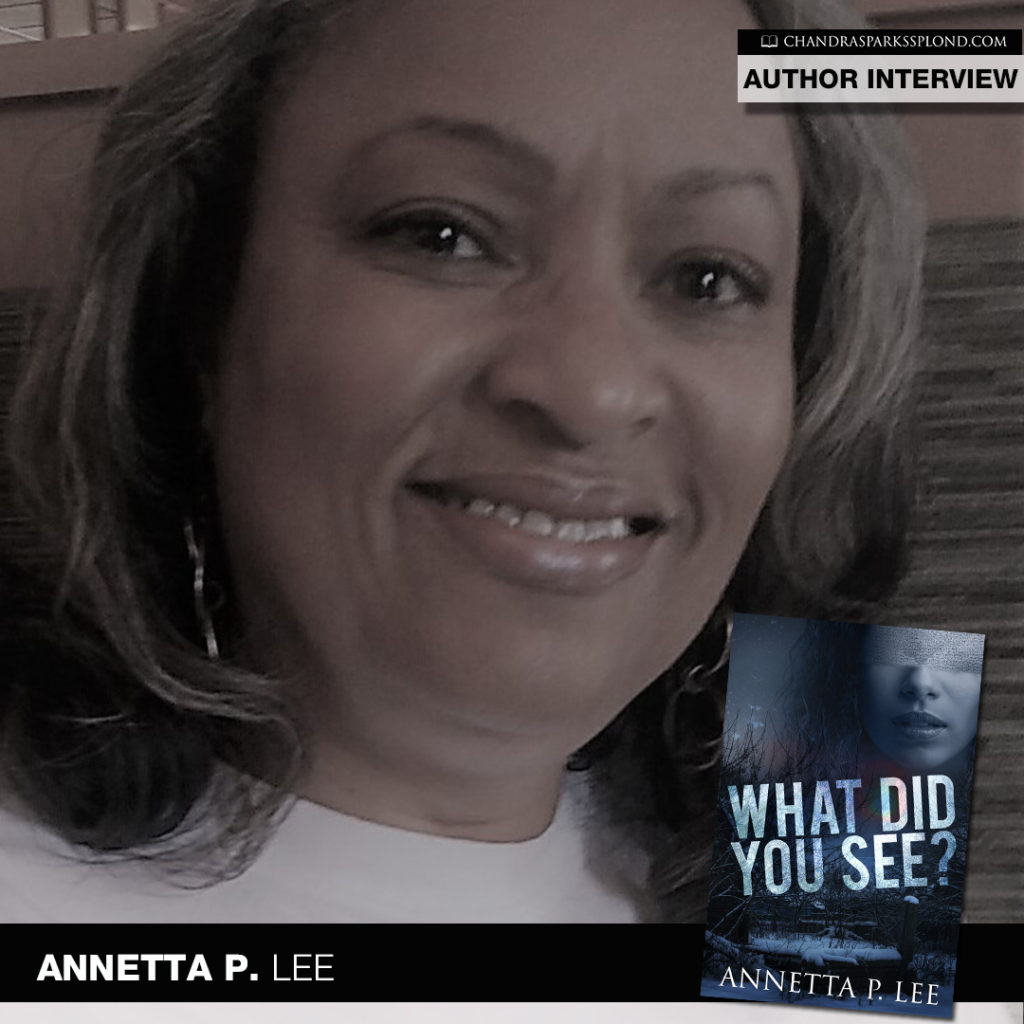 Author and speaker Annetta P. Lee is back with a story of lost faith that she hopes will lead to readers walking in love and forgiveness.
Tell me about your book, What Did You See?
It's the story of Jeremiah Gibbs or "Miah" as she is called, a female chiropractor in a small town, who has abandoned her faith due to her belief that God has favorites and she is not one of them. This belief suddenly culminates two years ago at the death of her fiancé who was a private investigator. Although ruled accidental, Miah believes his death was murder. She keeps her mouth shut about her suspicions until FBI launches an unrelated investigation asking to review the files of the decedent. Here is where I bring back the supporting presence of lead agent, Graham Jackson, a beloved character found in Scent of Rain and Light Encounters. While Miah's suspicions of foul play are reawakened, she springs into action to discover how the two cases may be related. While threats, murder to harvest organs and mob operations escalate around her, FBI finds it necessary to assign to Miah a bodyguard. Sam Stone is haunted by his own fatal mistakes. Soon commonalities in their respective pasts trigger an entrancing, but fragile attraction—and neither anticipates the danger and intrigue ahead that will either set them free or bring them both to their knees.
Why did you decide to write it?
I wanted a practical way to express God's continual outworking through us as we yield…that He is always speaking and directing our steps if we pay attention and not doubt that it is HIM. For instance, Miah's reaction to what she was seeing in her dreams, visions and encounters was not recognized as God engaging her, leading her—until much later. While right in the thick of misgivings, tragedy and chaos, God activated the realignment of His will and purpose for the lives of both Miah and Sam. We've not been taught that we really are in possession of gifts we don't recognize enough to cultivate and develop them into the powerful resource they're meant to be. We have been trained to call everything of supernatural ability to be that of occult and witchcraft. In What Did You See, I whisper this truth in hopes that readers will hear (deep in their spirits) and be compelled to look and flow in the power of His presence. It's their choice of course, so they can continue to function in performance to please and pacify tradition or choose to receive, develop and flow in the gifts He has given each of us.
What do you want readers to learn from your story?
My hope is that the characters will encourage and even challenge the readers to walk in love and forgiveness…that the story will provoke thought to recognize God as He steps up beside them. Also, to know the importance of letting go of the past…of forgiving and embracing family and all God has transformed to be a living witness in the very midst of our troubles and spheres of influence. I want to ignite recognition of the many simple ways He speaks and radiates through us. Sam was a good expression of this truth, even as he prays over each meal and talks from the intimacy He shares with his Lord. Despite his past, he was not ashamed of the gospel of Christ and witnesses even while trying to impress a damsel in distress.
What do you want readers to learn from your life?
That my stories flow from the things I've learned in my own walk. Not that I've experienced exactly what my characters have, but we all encounter what's common to man. We all walk on paths we have chosen…some good and some not so good. I attempt to build characters and place them in a world where they can grow and develop into better expressions of truth. That's what each of our lives is about. I've gained much understanding of those truths even as I develop them. In Miah's case, she only chooses chiropractic, although a worthy profession, because of her admiration and reliance for a mentor. We can all share our blunders and inconsistencies to help others along the way. That's what writing is about. It's a way to throw a rope to those who will recognize it, take hold of it and gain insight through it.
Who is your favorite author and why?
I love the writing of Dee Henderson and Kristen Heitzmann. Because they both weave a clean story with believable characters who struggle with their faith along with the rest of us. Without apologies, these women present the reality of a loving and faithful God.
What's next for Annetta P. Lee?
I'm working of a couple ideas, maybe even having a continuation of Sam and Miah's story.
Do you have anything you would like to add?
Just that I believe writing is a ministry, and God will use whatever is in our hand, what we enjoy…what we are skilled in. I am so humbled He has given me this thing to do, to display His truth with the stories that are inside me. Writing can definitely be frustrating, but what ministry isn't? I so appreciate all who have read and responded to my efforts. To God be the glory.
Use my affiliate link to purchase your copy of What Did You See? on Amazon.
To learn more about Annetta P. Lee visit her website or connect with her on Facebook.