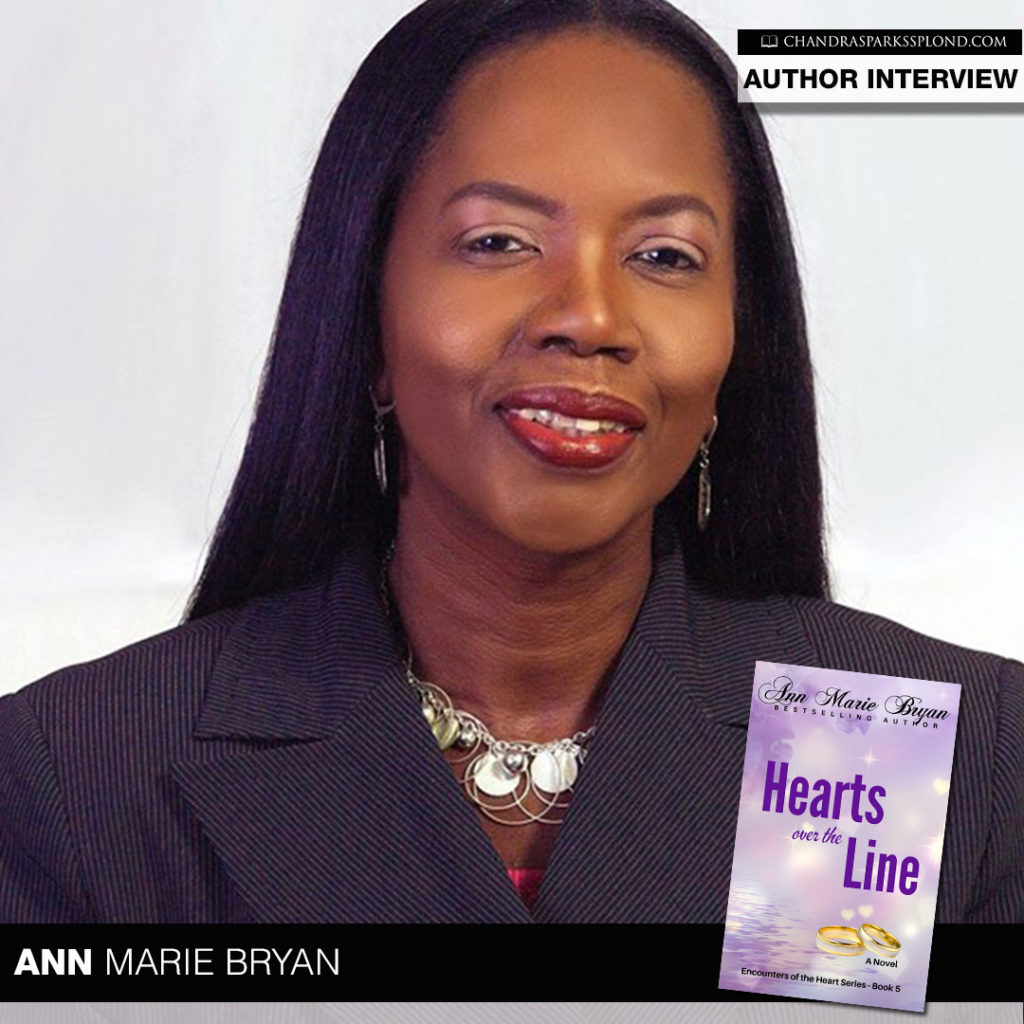 Ann Marie Bryan is bringing her Encounters of the Heart to a conclusion with the release of the final book in the series. I recently spoke with her about Hearts over the Line.
Tell me about your book.
Hearts over the Line is a riveting story about rising from the ashes, unlocking love, and learning to create and maintain an atmosphere of faith. This novel is the captivating conclusion to the Encounters of the Heart series, but it is also a standalone novel. As unresolved issues made unwelcome visits, the characters must learn to reset the atmosphere in which they live, and in so doing live in a place where God finds it easy to bless them. In a season that brought many challenges, the characters must learn to trust God.
Here is the back cover description:
Chandler Peynard has it all—family, fame, fortune, and salvation. This A-list celebrity has come a long way from his philandering days. That's no longer his style. He's head-over-heels in love with Sabrina, his wife, and in full pursuit of God's calling on his life. But when shadows of the past beckon, he panics. Eventually, he has no choice but to face his previous indiscretions, but will Chandler's past activities be more than his wife can handle?
Larry and Rozene Kanate have moved beyond the consequences of their mirrored sin. The birth of twin daughters helped to seal their happily-ever-after. Life is wonderful, until it's not. After the beaded curtain falls, Rozene scrambles to put the pieces together and avoid public humiliation. As the past crosses paths with the present, will their marriage survive?
Madison Bradshaw has moved past her inability to trust and love. But when Tyler, her husband, makes a special request, she hides the truth from him. What could go wrong?
In this captivating conclusion to the bestselling Encounters of the Heart series, unresolved issues make unwelcome visits to test the resiliency of love. Will the characters learn to reset the atmosphere in which they live? Will they live in a place where God finds it easy to bless them? In a season that brings many challenges, they must summon the courage to forgive, heal and fall in love again.
Why did you decide to write it? 
Hearts over the Line is the fifth book in the Encounters of the Heart series. I always smile whenever I think about how the series started. I am a member of the Christian Authors Network in Tallahassee, Florida. and we decided to write an anthology about the consequences of sin. As I wrote my short story for the anthology, the story took on legs of its own and became the first book in the Encounters of the Heart series.
The series is based on Proverbs 4:23 (KJV): "Keep thy heart with all diligence; for out of it are the issues of life." Although the books are in a series, they are also standalone novels.
Book 1: Shades of the Heart is a novel about the courage to love in the midst of broken promises, and ultimately about the healing power of forgiveness.
Book 2: Mirrored Hearts: Sealed by Fire is a stirring and deeply satisfying new addition to the series. It details the struggles of two broken hearts, mended by enduring love and sealed by fire.
Book 3: A Place for My Heart is an emotionally gripping account of a most unexpected love. Crushed by heartache and desperate for an escape, he makes a life-changing choice.
Book 4: Where My Heart Belongs is a heart-stirring story about love deferred and rediscovered under unforgettable circumstances. Love guided them to precisely what they needed—each other.
What's one thing readers would be surprised to learn about you?
My readers might be surprised that I have a passion for the performing arts. However, while I enjoy all categories of the performing arts, I have a special love for dance. I believe that the art of dance can be used effectively during praise and worship. Consequently, I share my time, talent, resources and expertise through the ministry of dance.
To what do you attribute your success?
All that I am and will be is wrapped up in Jesus Christ. Therefore, first and foremost, my success comes from God. True too, my family, sibling, relatives, friends, readers and fellow authors play huge roles in my success.
What do you hope your legacy will be?
I'm hoping to leave behind many inspirational, life-changing books. My writing projects must educate, inspire and empower readers. I desire to tell fascinating stories that will show the awesome power of God in the lives of people and places. I want my words to inspire hope, change, forgiveness, healing and restoration.
What's the most difficult part of being an author?
Hmmm! Great question. At this time, I would say finding the time to write.
What was your most memorable experience writing this book?
I enjoyed creating my favorite book daughter, Loren Peynard. You've got to meet her. She is adorable, smart, and witty. Oh, she has her own sense of style, too.
What's next for you?
As always, I am excited about my writing journey, and I am thankful for the opportunity to share with others. I believe in working together, the exchanging of ideas and sharing of resources, so I hope that my writing adventures take me all over the world to share at conferences, seminars and workshops.
I just wrapped up the Encounters of the Heart series. Usually, I take a few weeks off to rest. On another note, I keep thinking that I would love to write books with one-word titles. I'll see where the Lord leads regarding that thought.
Do you have anything you would like to add?
Thanks, Chandra, for this wonderful opportunity. I'm super excited and grateful for it. All the very best in your future endeavors.
About the Author:
Ann Marie Bryan is a dedicated multi-talented leader with a passion for excellence. She is the CEO and founder of Victorious By Design, an organization committed to providing top-quality professional writing services, comprehensive personal and professional development programs and exceptional performing arts services to meet the unique needs of individuals and organizations.
A Christian fiction author, Bryan writes to educate, inspire and empower others. She desires to tell great stories with fascinating characters to show the awesome power of God in the lives of people and places. Her celebrated bestselling Encounters of the Heart series blends faith and romance that test the resiliency of love.
Bryan's greatest passion is to empower others to succeed by tapping into their God-given potential. She enjoys writing, reading, dancing, teaching, meeting people and traveling. With all the knowledge and experiences that God has so graciously blessed her with, Bryan is determined to make her life a ministry for the Lord.
To learn more about Ann Marie Bryan, visit her website or connect with her on social media:
Website: http://www.annmariebryan.com
Facebook: https://www.facebook.com/authorannmariebryan
Facebook Readers' group: https://www.facebook.com/groups/authorannmariebryan
Twitter: https://twitter.com/authorabryan
Pinterest: https://www.pinterest.com/authorabryan
Instagram: https://www.instagram.com/authorabryan
Newsletter (monthly): http://eepurl.com/bOw6sr
Google+: https://plus.google.com/118441643599687205816
Amazon: http://www.amazon.com/Ann-Marie-Bryan/e/B008VTK62O
Goodreads: https://www.goodreads.com/author/show/6448888.Ann_Marie_Bryan
Use the affiliate link to purchase your copy of Hearts over the Line.