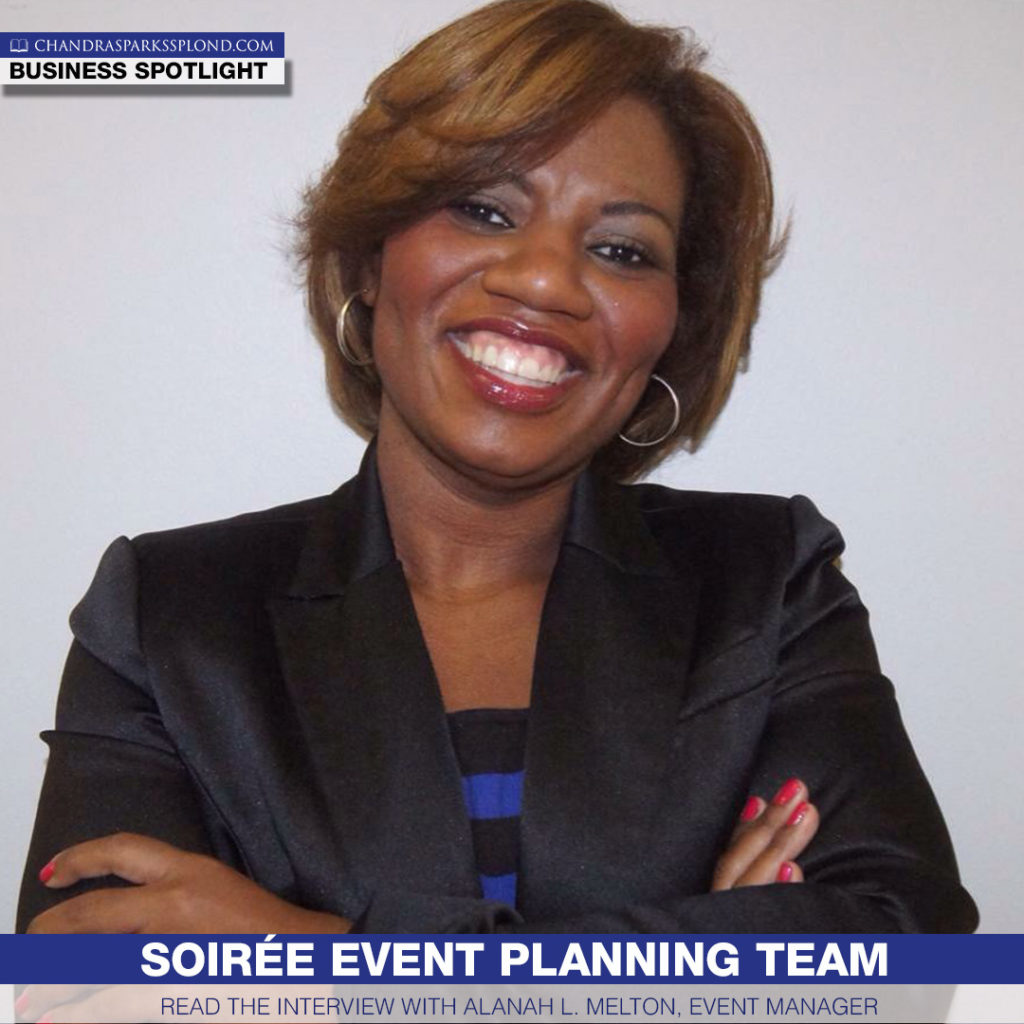 Event manager Alanah L. Melton wants you to know that planning your next event doesn't have to be stressful. I recently spoke with Melton about her business, Soirée Event Planning Team.
Tell me about your company, Soirée Event Planning Team.
Soirée Event Planning Team was started in February 2015.  It is a full-service event planning company that handles all types of events—from weddings to corporate events as well as development and fundraising opportunities.  I have planned every type of event that you can imagine—birthday parties (for both the young and the young at heart), weddings, baby showers, health fairs, corporate luncheons, meetings and countless other events.  I am currently helping coordinate the largest event that I have worked on, to date, the Holly Springs Cultural Arts and Music Festival (www.hollyspringscamfest.com).
Why did you decide to start it?
There is nothing like watching an event come from conceptualization to realization!  I enjoy being behind the scene, admiring the smile of my clients and their guests—knowing that I have had a hand helping it all come together.  Whether it is a personal or professional event, it is an awesome feeling to watch things "fall into place," and I take great pride in knowing that I had a hand in it.  I love helping others make their dreams come true!  Truthfully, it is through helping others make their dreams come to life that I have been able to truly live out my own.
What's the best business advice you have ever gotten?
"Never make it about me."  By leading with a servant's heart and keeping my clients' wants/needs at the center of my focus, I have come to learn that when you put others first everything else falls in line.
 What's the worst business advice you have ever gotten?
I have learned something from every piece of advice that I have ever been given.  Even the perceived "bad" advice has taught me something—either what to do or what not to do.
What advice do you have for women who want to start their own business who are afraid?
At the risk of sounding cliché, I would say "just do it!"  Step out there and do not allow fear to paralyze you.  It is true that "your gifts will make room for you," so relax.  Be patient.  Things will work out exactly when they are supposed to…God's got this!
What lesson do you want your son to learn from your life?
Oh wow!  That's a tough one…there is so much.  I guess I would want him to learn that life is about the process.  That he should trust the process.  Everything we go through (the good, the bad, and the ugly) is about the process…how well you handle it.  I want him to learn not to live in regret because in the end it was all necessary.
 What's next for Alanah Melton?
Soirée means elegant party.  It is my desire to enjoy life to the fullest with class and style while inspiring others to do the same.  It is with that thought in mind that I am planning to expand the Soirée brand to include a travel agency and eventually exploring other businesses.
 Do you have anything you would like to add?
Thank you so much!
To learn more about Soiree Event Team, connect with her on Facebook or Instagram, or email Alanah Melton to plan your next event.