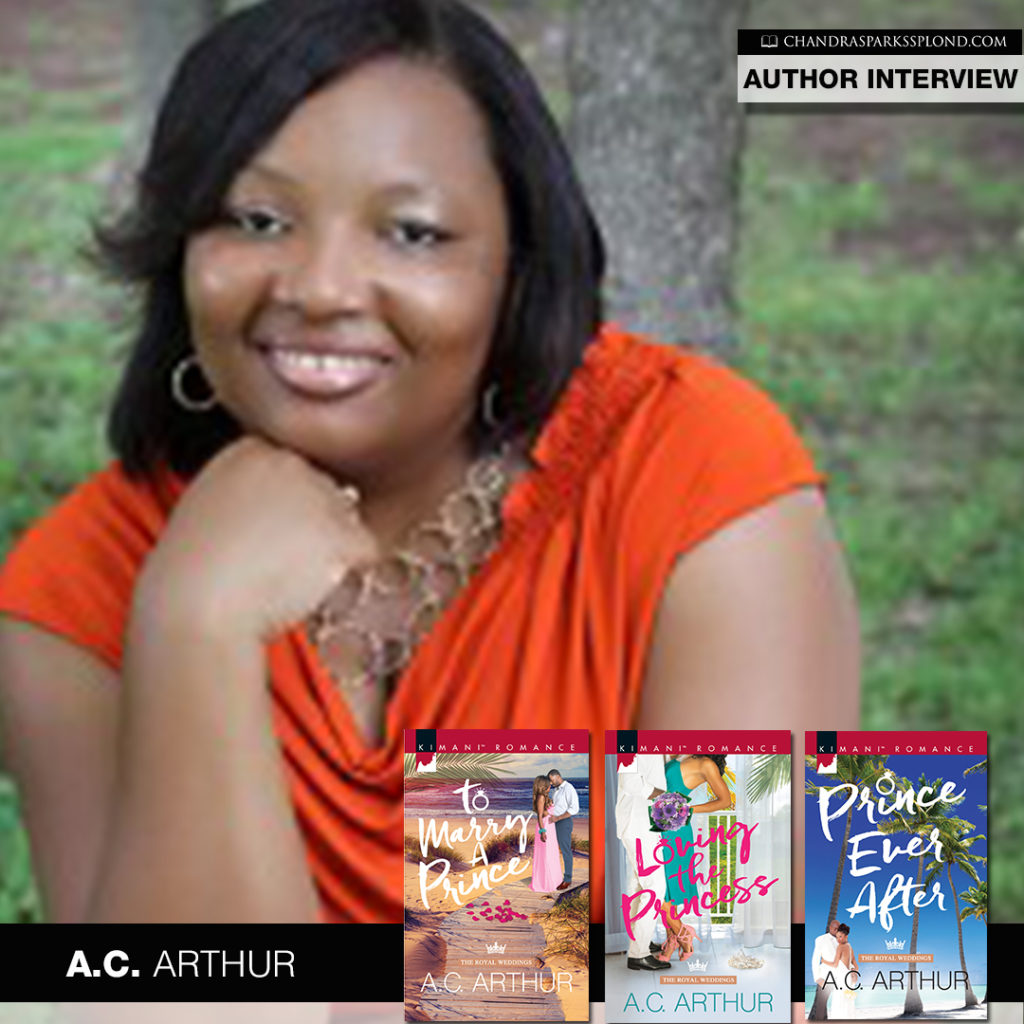 June kicks off wedding season, and a new romance trilogy from author A.C. Arthur. I recently spoke with her about her Royal Weddings series.

Tell me about your Royal Weddings series.
The Royal Weddings trilogy features a father and his three children who together rule a Caribbean island called Grand Serenity. When the reigning prince—Prince Rafferty—of the island falls in love with an American and begins making plans to marry her, his children—Prince Kristian, Princess Samantha and Prince Roland—band together to find out if this woman is worthy of not only their father's heart, but of the title and prestige of becoming the reigning princess of the island. Each book tells the personal struggles and journey to happy ever after for the siblings and brings to light facts about their family's past that none of them, including their father, knew. It's a very sexy and romantic trilogy with a dash of suspense.
Why did you decide to write it?
I decided to write this trilogy in the fall of 2015. I read a lot of romance novels, and I'm always cognizant of themes and storylines that readers really enjoy. As my novels primarily feature African-American characters, I noticed that there wasn't a lot of representation for AA characters among the royal family theme. I'd written about billionaires, blue collar workers, and even shapeshifters, so I figured it was time to enter a palace and have some royal family members fall in love.
What do you want readers to learn from the series?
One of the primary points of the trilogy is for readers to see people of color in different stations in life. Of course, I'm always trying to show that on some levels, love can conquer all, but there's also an underlining theme about keeping secrets.
What do you want readers to learn from your life?
Oh, this question is a lot harder than the others. LOL. I think if there's one thing readers can learn from my life, it's that perseverance pays off. Each book I write, each contract I acquire has come with hurdles, rejections and people saying that I couldn't do certain things. While I'm not immune to hurt feelings or being discouraged, I believe in keeping it moving. So I write the next book and the next and always hope for the best.
What advice do you have for readers who want to write in multiple genres?
Take the chance, write what you love to read. If that's multiple genres, then go for it. Read books in the genres you're writing. Read books in the genres you're writing. I cannot stress that enough.
What's next for A.C. Arthur?
Well, this year will have two series wrapped up—The Donovans and The Royal Wedding. Next year, I'll be writing more contemporary small town romance with The Taylors of Temptation, and I'll be closing out my Shadow Shifters (paranormal romance) series with two more books. I also have some other projects in development that will hopefully grow me as a writer and take my career to the next level.
Do you have anything you would like to add?
Just a big thank you for this opportunity and all that you do to help uplift other authors.
Find A.C. Arthur, friend her, or follow her on the Web—www.acarthur.net; Instagram, Google Plus, Pinterest, & Tumblr as acarthurbooks; Facebook as AC Arthur's Book Lounge; Twitter as AcArthur.
Use my affiliate link to purchase your copy of To Marry a Prince, Loving the Princess and Prince Ever After.