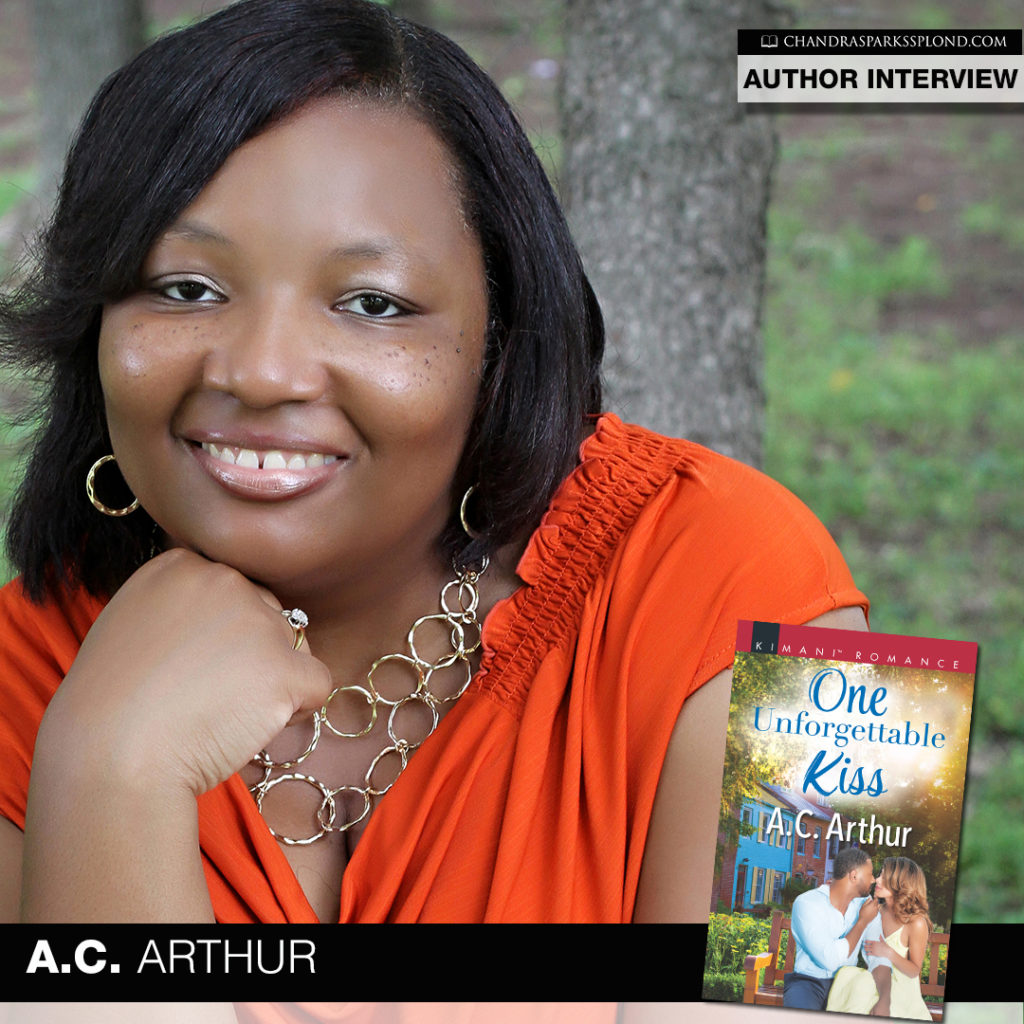 It's always a pleasure to have A.C. Arthur visit. Today she's back to discuss One Unforgettable Kiss.
Tell me about your latest book. 
One Unforgettable Kiss is the second book in the Taylors of Temptation series. It's about the second sibling in a group of African-American sextuplets born in the small town of Temptation, Virginia. Garrek Taylor is a navy pilot and Harper Presley is a construction manager. They're both running from something in their past and end up running right into each other's arms.
Why did you decide to write it?
I'm always looking for current events that can be written into a romance story, and one day I was watching The 6 Little McGhees (a reality show about African-American sextuplets), so I thought it would be cool to go back to a reality television show family to see how their lives had turned out after their stint in the limelight. The Taylors have a lot of emotional baggage as a result of their upbringing, but coming back to their hometown is just the remedy they need to make it through.
What do you want readers to learn from the story?
I want readers to feel the love of family and to witness the strength that comes from going through trials and tribulations. Garrek and Harper have not had easy lives and yet, they still find a bright spot where their love can flourish.
Tell me about your upcoming reader appreciation event.
On The Road, is my sixth reader appreciation event and the idea was to hit more than one location in the U.S. in an effort to get to as many readers as possible. We'll be stopping in Houston on August 18, 2018, and Las Vegas November 8-10.
Why did you decide to do something for readers?
I've always gone to writer and reader events, but one thing I noticed over the years was that there was no place where readers could truly immerse themselves in the books they were reading with other readers. So I thought it would be fun to use the book characters to bring readers together, and it worked. Readers enjoyed coming to an event that was actually a part of one of my books. Over the years, I began bringing other authors to the events as well who wrote books with common themes so that again, readers would feel like they were spending the weekend with their favorite characters or the family of their favorite characters. It's been a blast.
What can readers expect when they attend?
This year we're planning a Hearts of Texas rodeo in Houston and a sip 'n sign (a book signing with a little twist). In Las Vegas, we'll be gaming and winning cash-out cash based on readers knowledge of the books and the attending authors. We have so many fun activities planned—costume parties, Battle of the Sexes, a reverse panel discussion—and tons of goodies to give away.
What's next for A.C. Arthur?
Writing, writing and more writing. LOL I'll be starting the Donovan Dynasty series in June, heading back to the town of Temptation in August and then visiting with my Shadow Shifters again in October.
Do you have anything you would like to add?
First, thank you, Chandra, for this opportunity to talk about what's going on in my world. And second, thank you so much to the readers who have been rolling with me over the years. Your support is greatly appreciated.
Connect with A.C. Arthur on social media.
Facebook     @AcArthur
Twitter          @AcArthur
Instagram     @acarthurbooks
Pinterest       @acarthurbooks
Tumblr         @acarthurbooks