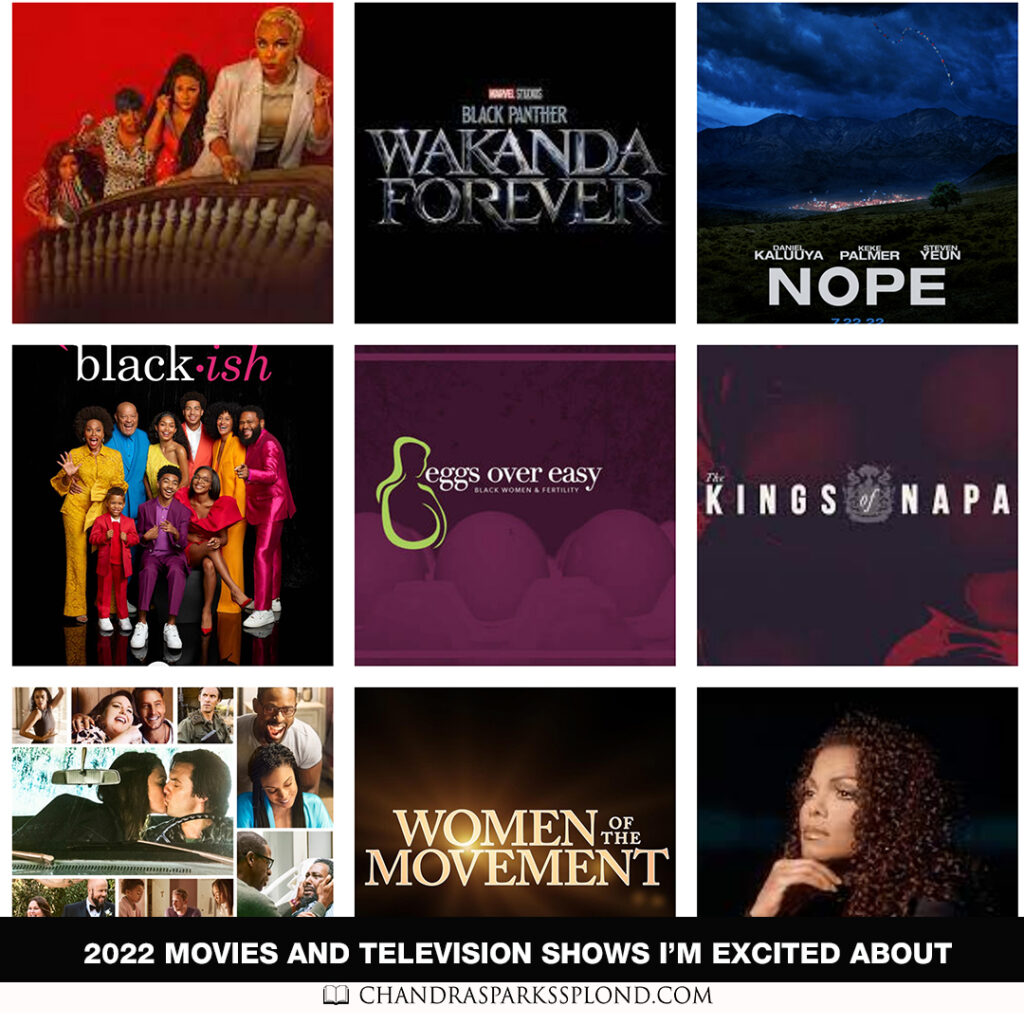 A new year is finally here, and that means we're saying hello to lots of new movies and television shows, and this year, sadly, we'll also be saying goodbye to a few of my favorite shows. Here's what I'm looking forward to in 2022.
All American: Homecoming
This spinoff of All American is set against the backdrop of an historically Black colleges and universities experience at Bringston University where Black excellence is a way of life. The series follows Simone, a young tennis hopeful from Beverly Hills who is trying to fight her way back after some time away from the court; Damon, an elite baseball player from Chicago who is carrying the weight of the world on his shoulders; JR, Damon's fellow baseball player and childhood friend; Thea, the super-competitive queen bee of the Bringston tennis team; and Keisha, the school's unofficial mayor who must help Simone learn how to live her best life. As they contend with the high stakes of college sports, Simone and Damon must also navigate the highs and lows of unsupervised early adulthood at a prestigious HBCU.
---
Bel-Air
A dramatic retelling of the story of The Fresh Prince of Bel-Air.
---
Women of the Movement
From producers Shawn Carter and Will Smith comes a fresh and deep examination of Mamie Till-Mobley's fight to bring her son's body home to Chicago. After Emmit Till's brutal murder, his mother's pivotal yet heartbreaking decision to have an open-casket funeral for the public to see ultimately served as a turning point for the civil rights movement. The docuseries also traces Till-Mobley's journey back to the Jim Crow South to face her son's murderers in court and illustrates how the Till family has continued her legacy since her death in 2003, remaining active in the movement as the deaths of Trayvon Martin, George Floyd, Breonna Taylor and others sparked protests around the country.
---
The Kings of Napa
The Kings' wine business has brought the family success and acclaim, but following the patriarch's sudden exit from the company, his three children must grapple for the reins to the kingdom: to their own power, wealth and legacy.
---
Janet Jackson
The four-hour event is in celebration of the 40th anniversary of Janet's first album, Janet Jackson (1982). With full, unprecedented access to the global icon, JANET JACKSON. is an intimate, honest and unfiltered look at her untold story.
This will be the definitive story on Janet Jackson. One of the best-selling and highest-earning artists in music history, Janet has enjoyed immense levels of success, experienced incredible tragedy, and endured a tumultuous private life in the face of extraordinary public scrutiny. With no stone left unturned, JANET JACKSON lifts the lid on her private life for the very first time and reveals some of her most intimate moments ever caught on camera.
---
Line Sisters
Line Sisters follows four sorority sisters—Valerie (LeToya Luckett), Cassandra (Kierra Sheard-Kelly), Simona (Ta'Rhonda Jones) and Dominique (Drew Sidora)—as they reunite at a Black Greek Weekend celebration held on the Outer Banks of North Carolina. Having pledged the Alpha Beta Omega Sorority, Inc., they share more than the bonds of sisterhood, after the mysterious death of the dean of pledges 15 years prior. But the past comes knocking on their door as they arrive to the island and strange and inexplicable things begin to happen to each one of them, threatening to unearth the deadly secret that may tear them apart.
---
Black-ish
It's the final season for the Johnson family. Dre Johnson (Anthony Anderson) has it all—a great job, beautiful wife Rainbow (Tracee Ellis Ross), five kids and a big home in a classy neighborhood—but as a black man, he begins to question whether all his success has brought too much cultural assimilation for his family. With the help of his father (Laurence Fishburne), Dre begins to try to create a sense of ethnic identity for the members of his family that will allow them to honor their background while preparing them to embrace the future.
---
This Is Us
Get ready for an emotional ride in this final chapter with the Pearson family. If you've missed the hype these last six years, This Is Us is a heartwarming and emotional story about a unique set of triplets, their struggles and their wonderful parents.
---
Phat Tuesdays
Celebrate Guy Torry's Phat Tuesdays at The Comedy Store, the influential comedy showcase that helped launch the careers of some of the most famous Black comedians in the industry.
---
Eggs Over Easy
This documentary narrated by Keisha Knight-Pulliam investigates the taboo of infertility in the Black community and brings women together for dialogue about the sometimes unpredictable path to motherhood.
---
Legally Blonde 3
Other than the fact that it's starring Reese Witherspoon and that it is scheduled to premiere May 20, 2022, little is known about the third installment in the Legally Blonde franchise.
---
Nope
The upcoming American horror film is written, directed, and produced by Jordan Peele. The film stars Daniel Kaluuya, Keke Palmer, and Steven Yeun, and is scheduled to be released by Universal Pictures on July 22, 2022.
---
Black Panther: Wakanda Forever
Black Panther: Wakanda Forever is an upcoming American superhero film based on the Marvel Comics character Black Panther. Produced by Marvel Studios and distributed by Walt Disney Studios Motion Pictures, it is intended to be the sequel to Black Panther and the 30th film in the Marvel Cinematic Universe.