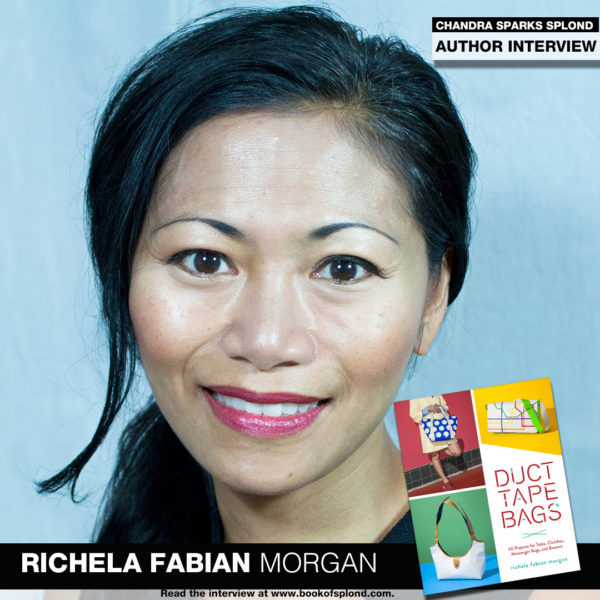 For duct tape artist Richela Fabian Morgan, her career is in the bag. I recently spoke with her about her latest book, Duct Tape Bags.
Tell me about your book, Duct Tape Bags.
Duct Tape Bags is an easy-to-follow guide to making 40 bags out of duct tape and, well, not much else! The type of bags include clutches, totes, hobos, satchels, messenger bags, and bowlers. I tried to design bags that are stylish and fashionable, yet attainable to make and inexpensive. There are different levels, so you can begin making the easier bags like the clutch bags, and then gradually move up to challenging one like the bowlers.
Why did you decide to write it?
When I started crafting with duct tape, I noticed that a lot of kids were using it to make wallets. So I made a bi-fold wallet. Then I started making larger tri-fold wallets, which eventually became clutches. In fact, my first duct tape bag was a black clutch. It became my go-to evening bag and I received so many compliments for it. Suddenly I was obsessed with re-creating leather and cloth bags that I would see on the street, in stores, and online—just using duct tape. Something would catch my eye, and I would think to myself, I can make that out of duct tape.
I wrote the book because I believe that duct tape bags can be more sophisticated than people may think. Duct tape is just another material that can be made into a fabric. And what can you make with duct tape fabric? Well, a lot! But let's start with bags.
What advice do you have for people who say they aren't crafty?
Some people don't know they have a crafty side. That's why I love those painting parties that are all the rage now. Most of the party participants go for the wine and conversation, but wind up really liking the experience of making something. I'd love to do a duct tape bag making party! So the first thing I would say to is: Give it a try because you never know.
But if you truly don't like making stuff, that's okay. I have friends who vociferously proclaim they are not crafty. But they are all appreciative of what I do and the things I make. To those individuals who aren't open to new experiences, I would say: be open-minded, and appreciate the effort/skill/creativity that is required to be crafty. Don't be a hater.
What do you want readers to learn from your life?
I owe all of my success as a crafter/artist/author to my kids. Until 2004, I still worked in an office.  I was working just to bring in a second paycheck, not finding any fulfillment other than the friends I made in the workplace, so I quit my job.
Being a stay-at-home mom brought out my crafty side. I had always been crafty, but now I was using my craftiness to interact with my kids. We made stuff all the time, from a corrugated box racetrack to paper bag puppets. When my extremely shy daughter started kindergarten, I would plan a craft project for every play date. Soon, her friends would come over to craft regularly with me and I started teaching crafts out of my house. When I started working with duct tape, my "crafty girls" (as they called themselves) became the best duct tape crafters I knew. When my son started kindergarten, I approached both kids' teachers about doing art projects in their classes—duct tape and otherwise. That's when I started cataloging every craft project that I did. So when someone asked me if I could write a book, I was ready. In fact, I was able to write and write and write. I already have the next two books planned based on finished crafts.
So the main thing about how I ended up doing what I do is that I followed my heart. Staying home with my kids showed me who I really am, what I am great at, and what I have a passion for. I don't expect every person to take the same path. I just wish we all had the opportunity to follow our hearts.
What has been the most surprising thing about your success?
The most surprising thing about the success of my books is that the audience for duct tape crafting is still growing. There are still so many people that don't know how great a material duct tape is, how sophisticated and versatile it is. And it's my mission to show everyone that you can make some really terrific and useful crafts—like duct tape bags.
What's next for Richela Fabian Morgan?
I also decided to go back to school for an art degree. I waited until my kids were in middle school before registering for my first class. I already have a history degree, but I never took an art class in high school or college. I recently finished my last class this past spring at CUNY Hunter College and am applying for graduation. My daughter asked me if I would walk in the graduation ceremony. I'm still thinking about it. Maybe I'll wear a duct tape cap and gown. 🙂
As previously mentioned, I do have ideas for more duct tape craft books, necklaces and fascinators in particular. But I also started making art with duct tape. The art degree, or more likely the pursuit of the art degree, has really opened up my eyes to the possibilities of the sticky stuff.
Do you have anything you would like to add?
Duct tape crafting doesn't sound like a glamorous path. It started as crafting with my kids for pure entertainment, but I focused on it because there was a feeling that I could do more. I still have that feeling!
There are other types of crafts that I do. I still dabble in paper crafts, and I try to do a little embroidery. But I absolutely love duct tape.
I love what I do, and I know that I am lucky.
To learn more about Richela Fabian Morgan, visit her website or connect with her on Facebook, Twitter or Instagram.
Please follow and like us: