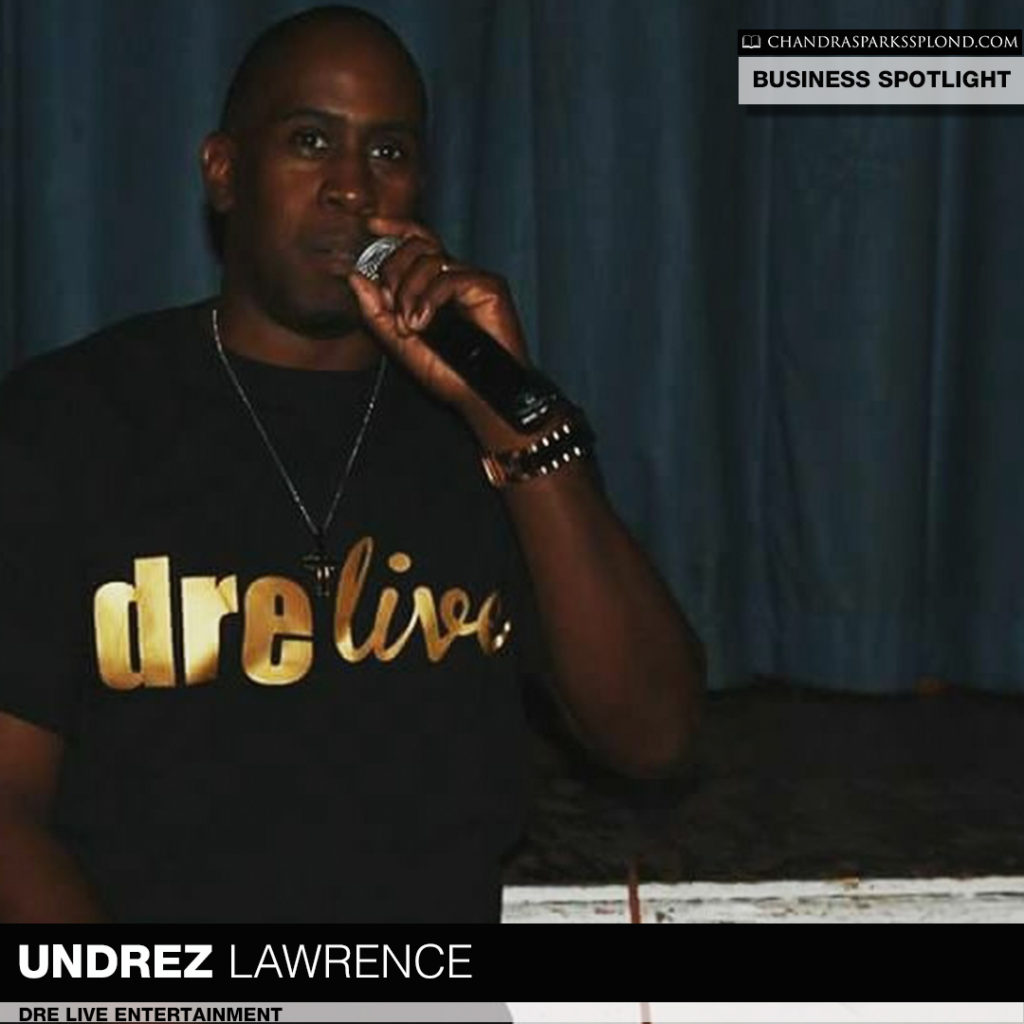 If you're planning a party for the holidays or next year, stop what you're doing and book Dre Live Entertainment. I can assure you you won't be disappointed. I recently spoke with owner, Undrez "Dre Live" Lawrence.
Tell me about your business.
The name of my business is Dre Live Entertainment.  It was established in 2014.  I DJ, create mixed playlists, and provide public address announcing.
Why did you decide to start it?
I've always been a fan of music and I've created several playlists throughout the years and one day a client heard my cookout playlist and asked if I deejay because her daughter had recently married and they needed a dj for the reception and the music I played and how it flowed was just incredible.  I said sure I'd give it a try and needless, to say the crowd danced and enjoyed themselves all night.  The joy they expressed and the thrill of helping them with that just lit a fire within me.
What can patrons expect when they purchase services from you?
Clients can expect professionalism, creativity, energy and customization.  I have quality equipment and my attention to detail is what I pride myself in.  My goal is to leave patrons happy and wanting more.
What's the best business advice you have ever gotten?
The best business advice I've received is to know my worth, to always be prepared and to never become complacent.  I set goals for each event that I do and I always seek to learn from my peers and from the crowd's reactions.
What advice do you have for others interested in becoming a deejay?
My advice to future deejays is to invest in your equipment and promotion, stay prepared, create packages based on client needs and expand your musical library both mentally and physically.
What's the biggest lesson you've learned as an entrepreneur?
The biggest lesson I've learned is that potential is limitless, you just have believe in yourself, think outside the box, and do well the things you know.
What's next for DreLive Entertainment?
Dre Live Entertainment is seeking to gain traction in markets where music and people can coexist and great vibes is what manifests from that union.
Do you have anything you would like to add?
I would like to add that Faith in God is the source of all favor.  We should always believe in ourselves and work to create or do those things that bring harmony.
To book Undrez "Dre Live" Lawrence, connect with him on Facebook (Dre Live Entertainment) or Instagram (drelive_ent), email drelivedadj@gmail.com or call 205-396-7674
Please follow and like us: