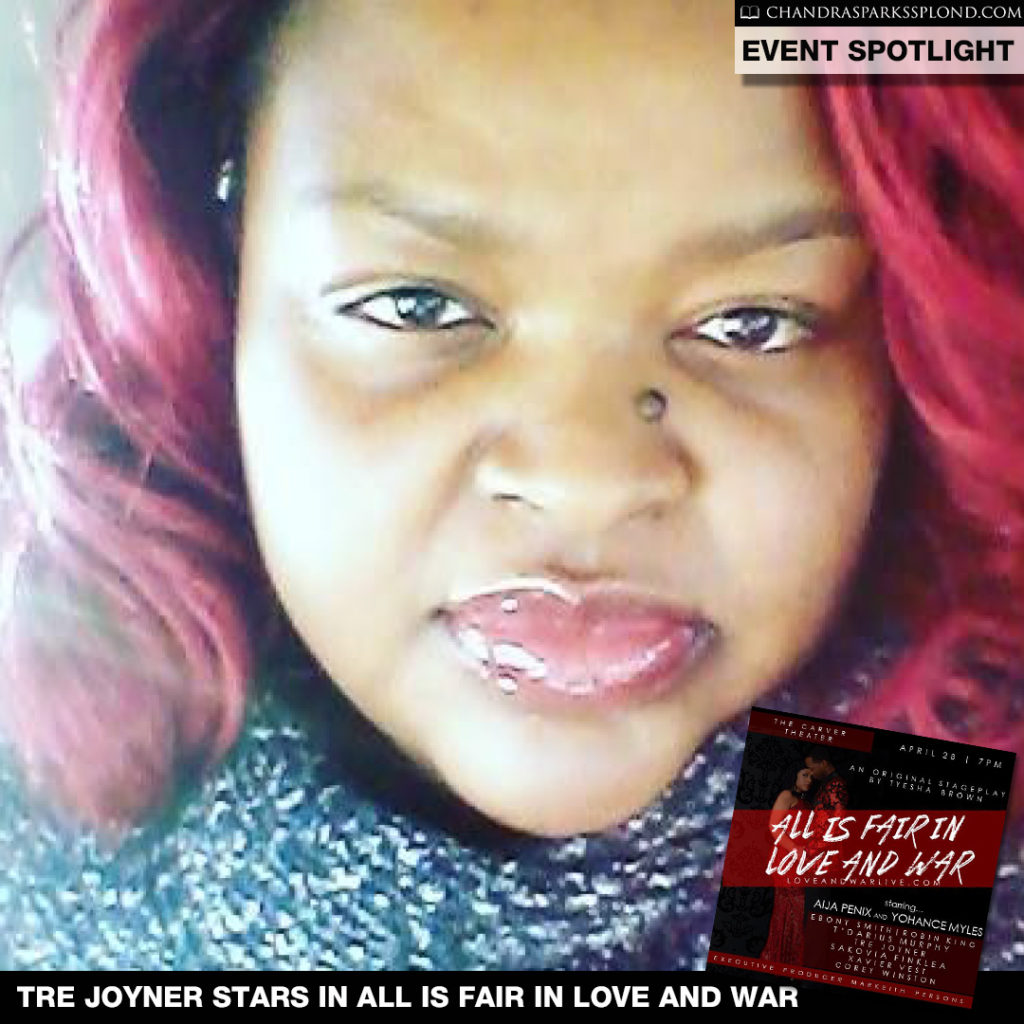 Chef Trè Joyner is taking her skills from the kitchen to the stage as she prepares for her role in the play, All Is Fair in Love and War this weekend in the Magic City.
Tell me about your play, All Is Fair in Love and War.
All is Fair in Love and War is written by Tyesha Brown, starring Yohance Myles of the show Shots Fired, Aija Penix of the Nashville, and David Banner has joined us, as well #Godbox! It's about a couple who has chosen to have an open marriage.  There are some major twists and turns, plots and schemes.  My character is the mother of Kali (Aija) and her sister Kelly (played by Sakovia Finklea).  I am a very spiritual and praying mother who is trying to get some balance in her life as well as her daughters' lives.
The play is April 28 at the Carver Theater at 7 pm.  VIP is $40 and general tickets are $20. I am so excited.
Why did you decide to be a part of it?
Originally I asked Tyesha could I just be her assistant.  I love acting and theatre, but I wanted to be a stage hand just to be in the essence of the arts.  She said, "You know what, I'm going to write you in this!" She did. I feel very blessed. I want to eventually act full time.
What can the audience expect when they attend?
A range of emotions and the reality of relationships.  It's relatable, but will also make you think.
What is the hardest thing about acting?
For me personally, it's balancing my career, home life, and making sure you practice away from rehearsal.  But, no matter how tired I am, when it's rehearsal time, I get a second wave of energy and enjoy the craft.
You are also an amazing chef. What's going on in your culinary world?
So much!  So I have started baking at CakEffect, The Little Bake Shop with the Grand Effect. Komeh Ottison Davis is the owner, and she and I are collaborating in a few areas.  We now serve lunch on Thursdays and Fridays, and I cater for corporate lunches for CakEffect as well.  The business is expanding from the Homewood location to Hoover.  I also do cooking lessons for children and adults, Romantic Embers for Married Couples Only, and working on a few other things that will have to wait.
What advice do you have for others interested in starting a business?
1. If it's truly what you love, do not give up.  2. Be honest with yourself and know there will be challenges to overcome.  3. Do not be intimidated by someone doing what you are doing. There is enough revenue for everyone.
What's the biggest lesson you've learned as an entrepreneur?
You must be consistent and persistent.  I am guilty of falling off when I let life overtake me instead of just taking a deep breath and tackling the elephant one bite at a time. I also have realized in certain areas of my culinary world, it's time to retire.
What's next for Chef Tre?
I have to complete my cookbook Creating Memories. It's long overdue. I am also retiring from catering unless it's for CakEffect.  I'm ready to venture in teaching more, cooking on tv consistently, and acting as well! I am also venturing into Public Speaking.
Do you have anything you would like to add?
Don't keep doing something you're good at if you don't love it anymore. People will keep you in a box and you will feel so trapped and suffocate.  There is so much more to life than to live miserably.  Follow your heart.  Transitioning can be challenging, but listen to God…not man.
To learn more about Trè Joyner, visit her website or connect with her on Facebook, Instagram or Twitter. Learn more about CakEffect, but visiting the company's Facebook page.
Please follow and like us: