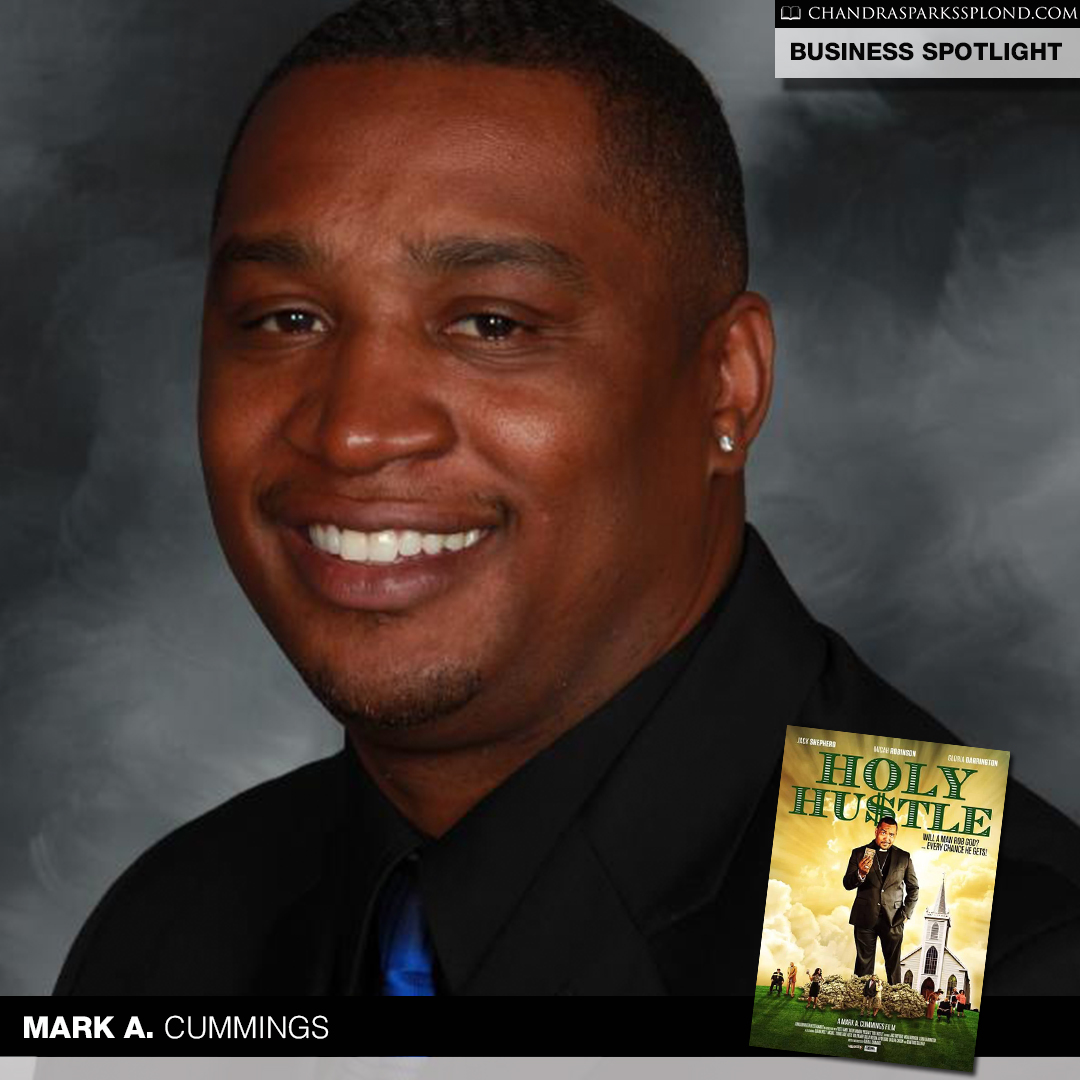 Mark A. Cummings, Sr., executive producer of Awalkonwater Entertainment LLC, is all about the hustle. I recently spoke with Cummings about his movie, Holy Hustle.

Tell me about your movie, Holy Hustle.
A quick-witted con artist, Jacob McGee (Jack Shepherd BET's Comic View, HBO's Def Comedy Jam), and his straight-laced brother, Cain (Micah Robinson, Jacked Up, Profiled), on the run from gangsters, scheme their way into pastoring a down-trodden rural church to hideaway, while hustling the saints to scrape up the loot they owe. Unbeknownst to Cain, who has become smitten by the adorable church secretary, Hope Warren (Gloria Darrington WE tv's Bridezillas and Marriage Boot Camp), Jacob has other plans for the money.
"Holy Hustle is a buddy comedy that runs along the similar lines of the classic Blaxploitation films of the seventies, Let's Do It Again and Uptown Saturday Night, which featured Sydney Poitier and Bill Cosby. This movie takes a satirical look at some of the insanity we witness in some churches across America. More important, Holy Hustle is a movie of redemption, restored relationships and love."
We will have a premiere here in Columbus, Ohio, on July 15, 2017. Because we've sold out four theaters around 600 seats in less than two months, the manger decided to give us the entire complex, which is eight theaters, for the premiere.
We've also acquired a distribution representative, Leomark Studios, to establish our distribution channels. Right after the premiere we should be seen on VOD and other platforms.
Why did you decide to write, produce and direct it?
I wrote Holy Hustle after a friend pitched a simple concept to me. I took that and created everything from there. I normally act in each one of our productions, but didn't even make a cameo appearance in this one. I wanted to focus all of my energy on producing and directing it.
What can viewers expect when they watch the movie?
They can expect to see a fun movie with elements of love, redemption, family, and forgiveness. Hopefully, there will be a whole lot of laughs. Also, there is some good music in the movie.
What has been the hardest part of the production process?
The hardest part of this and any production I've been involved in is acquiring the funding. We tried a crowd-funding campaign, but it didn't generate many funds for us. Thankfully we had some great people who chipped in while I worked two jobs, again, to finance this movie. Ms. Denise E. Scott came onboard as an executive producer and took care of the craft services for us. That is one of the most costly line items of the entire production. There were times when we had 75-100 people on set.
What's the best business advice you have ever gotten?
Wow, the best business advice? I really can't recall off hand. I know the best advice I would give to any aspiring filmmaker is, "Do this because you love it. If it's for any other reason, then you will give up when times are tough."  I really love this art! We didn't get a distribution deal until our third movie, Profiled, originally titled, Premeditated.
What advice do you have for others interested in starting their own production company?
Other than the one I gave above. I would say study and research your craft to perfect and hone your skills. We are in a time of technology where anyone can make a movie. The unfortunate situation is, because there are so many movies in the market, we have to ensure that we are putting out quality work that will catch the attention of a distribution company. The next piece of advice I would offer is, strive to get better. I have to admit that each one of our movies improved. And that was a sign that I was learning and honing the craft. Lastly, I would say, to continue building their film catalogue even if they don't get distribution right away. Remember, you do it because you love it. Once that deal hits, people will want to look for your previous work.
What's the biggest lesson you've learned as an entrepreneur?
I would say that the biggest lesson I learned is I have to have vision. I have a vision; write it down, as the Bible instructs. J Then I put it all into operation. This has been impactful for me because it gives me a plan to implement. This is my blueprint to my success. And as a man of faith, if I can believe it I know I can achieve it.
What's next for Mark A. Cummings, Sr.?
I am currently in pre-production stage of a feature with a friend of mine, Harvey Dinero. I will be co-producing and directing the movie this summer. I also plan to adapt my first novel, To Play or not to Play, which you know very well, into a feature film. Over the last several years I have contributed to local filmmaker's movies, but with the distribution rep in place I have to focus more of my attention on films through our own company. We have to continue building our catalogue.
Do you have anything you would like to add?
I want your readers to know, "It's Possible!" (our company motto). Thanks for thinking of me to interview! I truly appreciate you.
To learn more about Holy Hustle, visit the website.