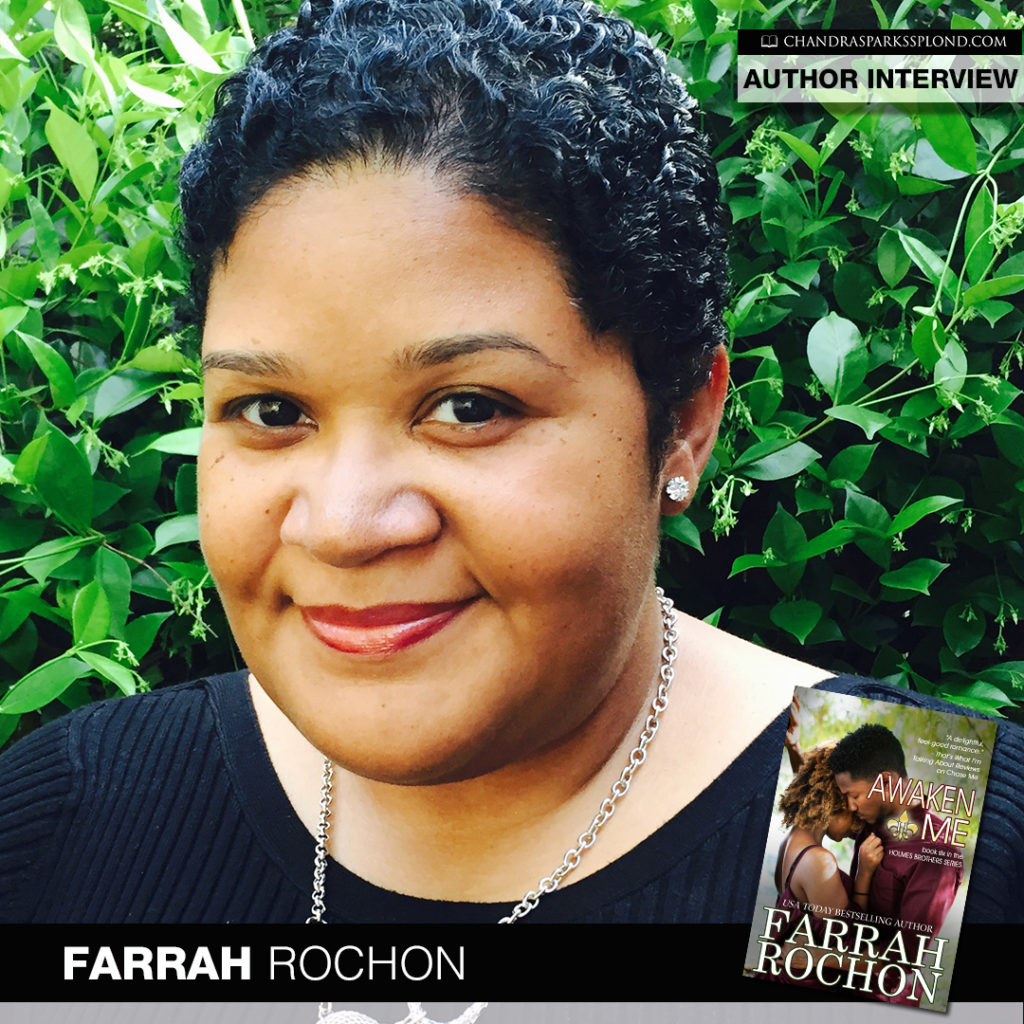 Farrah Rochon is back with the latest installment of her popular Holmes Brothers series. I recently spoke with her about Awaken Me.
Tell me about your book, Awaken Me. 
Awaken Me is the sixth book in my ongoing Holmes Brothers series, which is set in my beloved New Orleans and follows the lives of a set of brothers (and now cousins). Awaken Me features the baby of the clan, Reid Holmes, who works as a plumber for his oldest cousin Alex's (the hero of Rescue Me, book three) construction company. In Awaken Me, Reid meets Brooklyn LeBlanc, a spunky, self-professed comic book nerd who joins Holmes Construction as its new site coordinator. Although things start off a bit rough between them, the two must soon work together. And when they do, the sparks fly!
Why did you decide to write it?
The obvious answer is that Reid had to have his own story. However, I decided to pair him with a heroine like Brooklyn because he was a little cocky and needed to be taken down a peg or two. I think the couple is a perfect match for each other. I hope readers love them as much as I do.
What do you want readers to learn from the story?
During the course of writing Awaken Me, I discovered that self-confidence played a much bigger role in the theme of the book than I thought it would. Both characters learn to be more confident in their abilities, and I hope that readers take that from the story.
What do you want readers to learn from your life? 
Have fun! Anyone who follows me on social media knows that I like to enjoy life. I've come to appreciate experiences more than just stuff. Travel. See the world. Just enjoy life!
Who is your favorite author and why? 
Judith McNaught, who doesn't really write anymore, remains my favorite author because it was through her books that I truly discovered my love for the romance genre. Also, because of her books, I met a group of amazing women through Mrs. McNaught's online message board nearly 20 years ago who have remained some of my very best friends.
What's next for Farrah Rochon?
Next up is book seven in the Holmes Brothers series. It features the eldest brother of this newest set of Holmes cousins, Harrison Holmes, along with his wife, Willow. I also have several ideas for new series that I'd like to explore later this year.
Do you have anything you would like to add?
Here are the pre-order links for Awaken Me, along with a link to an excerpt. Pre-order links:
Amazon: http://amzn.to/2BxllYH
iBooks: http://apple.co/2zObwVX
Nook: http://bit.ly/2BB8DbD
Kobo: http://bit.ly/2zPVJpq
Excerpt:
https://www.facebook.com/notes/farrah-rochon/awaken-me/2328690267157233/
To learn more about Farrah Rochon, visit her website or connect with her on social media.
Website: www.farrahrochon.com
Facebook: www.facebook.com/farrahrochonauthor
Twitter: www.twitter.com/FarrahRochon
BookBub: https://www.bookbub.com/authors/farrah-rochon
Please follow and like us: